Ardbeg Corryvreckan wins World's Best Single Malt Whisky and Single Malt of the Year.
Published Date: 5th March 2010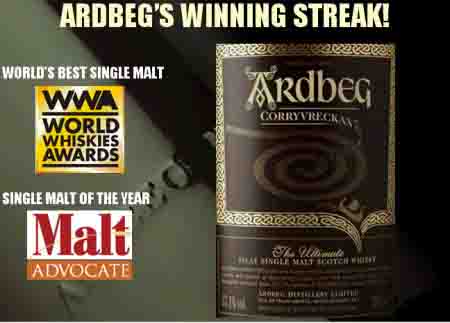 Ardbeg, a single malt whisky from the Ardbeg Distillery on the Island of Islay is delighted to announce that one of its famously peaty whiskies has just won two coveted awards: World's Best Single Malt Whisky at the World Whisky Awards and Single Malt of the Year by Malt Advocate Magazine.
After rigorous blind tastings by Whisky Magazine's panel and industry experts Ardbeg Corryvreckan, at the recent Whisky Magazine's World Whisky Awards ceremony in London won "World Best Single Malt Whisky".
Earlier in February Ardbeg Corryvreckan also won "Single Malt of the Year" from the US Malt Advocate magazine. John Hansell, publisher and editor of Malt Advocate Magazine described the Ardbeg Corryvreckan as "an invigorating, complex, and meticulously cared for whisky."
Named after Europe's largest, and the world's second largest whirlpool, the Corryvreckan whirlpool lies beside the Hebridean Isles of Islay and Jura which are off the West Coast of Scotland. Celebrated in Celtic mystery and legend, its raw, magnetic power exactly mirrors the big and untamed spirit of Ardbeg - the peatiest, smokiest and most complex of all the Islay whiskies! Ardbeg Corryvreckan had a tremendous welcome from the loyal fan club, the Ardbeg Committee, in 2008, when 5000 preview bottles were released. Their positive reaction encouraged Ardbeg to add Corryvreckan to the core Ardbeg range.
Hamish Torrie, Brand Director, Ardbeg commented on the two wins saying, "We are thrilled to have won these prestigious awards. With the hundreds of single malt whiskies that are entered for these competitions it is a great testament to the hard work of our Distillery team on Islay and the whisky creation team led by Dr. Bill Lumsden."
Dr Bill Lumsden, Head of Distilling and Whisky Creation, explained: "Experiments initiated in 1999, and continued ever since, have created parcels of Ardbeg stock slowly maturing in French oak casks on Islay. These are at the heart of Corryvreckan's perplexing character, teasing spicy and sumptuous sweet fruity notes from the maturing whisky."
Ardbeg Corryvreckan was launched in September 2009 at a price of around £60 (pounds sterling). Bottled at a strength of 57.1% ABV and non chill-filtered, to impart full body and texture, Ardbeg Corryvreckan is the epitome of "the untamed spirit of Islay".
You can read more about Ardbeg Distillery on the distillery website.
<< See the range of Ardbeg Single Malt Whisky
<< Back to all the latest whisky news brought to you by Planet Whiskies