The Famous Grouse Appoints New Master Blender :: Kirsteen Campbell :: 10th March, 2016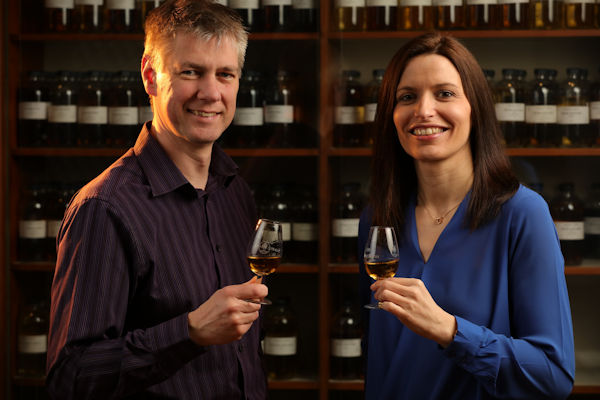 Kirsteen Campbell has been appointed to the role of Master Blender for The Famous Grouse, taking over from current Master Blender Gordon Motion this month. 
Kirsteen has worked alongside Gordon for over 8 years and became Master Blender for Cutty Sark at the age of just 33. 
Kirsteen will now become one of the few people allowed to share the secret of the unique blend of whiskies that combine to make The Famous Grouse. 43 million bottles of The Famous Grouse are produced each year, and it is exported to over 100 countries. It also holds the prestigious title of being the best-selling Blended Scotch in Scotland, and the UK. 
The role involves managing the legendary '106 Sample Room' at Edrington's Blending Headquarters on Great Western Road.  Here, an estimated 11,000 samples of single malts, grains and blends are stored – a working library for Edrington's team of nosers lead by Gordon and Kirsteen. The team can nose up to 600 samples a day, hunting down the right aromas, colour and character needed to create The Famous Grouse blend.
Gordon Motion will remain at Edrington in his new role as Edrington Master Whisky Maker, and will focus on the company's single malt portfolio, concentrating on Highland Park and The Glenturret Single Malts and including The Macallan. 
Kirsteen Campbell said: "I feel very privileged to be taking on the role of Master Blender for The Famous Grouse. It is an exceptional blend and I'm looking forward to working with the team here to ensure we that we continue to deliver the quality and character expected of the UK's number one selling blend." 
Gordon Motion commented: "Kirsteen is a very talented Master Blender and I've no doubt she will rise to this new challenge. I've thoroughly enjoyed the last six years as Master Blender for The Famous Grouse. My highlight would have to be when The Famous Grouse 40 Year Old was awarded the Trophy Award at the International Spirits Challenge in 2013, it was a very proud moment for me and the team." 
Kirsteen will continue in her role as Master Blender for Cutty Sark Blended Scotch Whisky.
<< Back to all the latest whisky news brought to you by Planet Whiskies