Auchentoshan Unveils Three Exceptional Expressions For The Discerning Whisky Drinker - 30th November, 2012
~ Auchentoshan 1966 – A Rare Vintage Release ~
~ Auchentoshan 1979 – Latest in 1970s Vintage Series ~
~ Valinch 2012 – Second edition Small Batch Release ~
OCTOBER 2012: Auchentoshan, the only triple distilled Single Malt Scotch Whisky, has released three remarkable and sought-after collectibles: the limited editions Auchentoshan 1966 and Auchentoshan 1979, and the second small batch release of Valinch 2012. These exceptional expressions will satisfy the palates of any whisky enthusiast or collector.
Established in 1823, Auchentoshan triple distils every drop, meaning the spirit produced reaches 81.5% ABV, significantly higher than most distilleries in Scotland. It is this quality and lightness of Auchentoshan's distillate paired with the carefully selected oak casks that gives its whiskies an unmistakably light and fruity flavour. This production process is totally unique to Auchentoshan; a distinct proposition that makes for a modern expression of a classic single malt.
AUCHENTOSHAN 1966 – BOURBON MATURED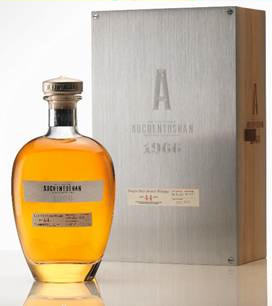 Carefully matured in North American ex-Bourbon Hogshead casks for just over 44 years, one of the rarest expressions of any Lowland Single Malt Whisky – making it a highly coveted collectible for any whisky fan.

Only 257 bottles of the Auchentoshan 1966 were laid to rest following distillation on 21 February 1966. After triple distillation, this extraordinary expression was matured exclusively in Warehouse Number Three, in the shadow of the Old Kilpatrick hills. Some say it is the perfect building for maturing Scotch Whisky; the sheltered aspect and lowland climate make for very small variations in temperature – just 12 degrees centigrade over a year. What's more, the floor is natural soil which allows the warehouse (and the casks) to breathe.
Encased in a handcrafted aluminium and oak outer case that are each individually numbered, the Auchentoshan 1966 comes partnered with a booklet charting the history of this rare expression. Priced at £4,500 RRP, this exclusive bottling is available now.
Kirsteen Beeston, Head of Brands at Morrison Bowmore Distillers, comments: "This is a stunning example of the care, craft and investment we put into our whiskies, that means it can withstand the test of time. Thanks to careful tending of the North American white oak hogshead casks, Auchentoshan 1966 Year Old has matured beautifully over 44 years. It has aged with a complex character – but keeps its youthful vitality."
TASTING NOTES FOR AUCHENTOSHAN 1966 – BOURBON MATURED
Golden syrup in colour, the expression displays welcoming aromas of fragrant tobacco leaf accompanied by a gentle prickle of lemon pepper. A splash of pure water awakens subtle notes of fruitcake and eucalyptus that develop into sweet heather honey, culminating with a flourish of cooling mint. A clean yet lingering finish, reminiscent of marmalade.
Rachel Barrie, Master Blender at Morrison Bomwore Distillers, adds: "Auchentoshan 1966 is a whisky of exquisite elegance with a delicate yet intriguing bouquet capturing the pinnacle of the distiller's art and remaining true to its triple-distilled house style. As Auchentoshan matures through the decades in bourbon casks, the fresh citrus aromas intertwine with the American white oak, evolving whilst maintaining the beautiful triple-distilled structure".
AUCHENTOSHAN 1979 – OLOROSO MATURED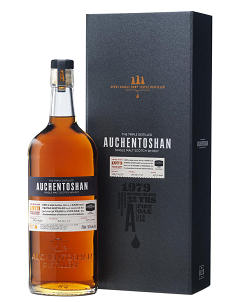 Building on the success of the Auchentoshan 1975 Bourbon Matured launched in 2011, the Auchentoshan 1979 Oloroso Sherry Matured is the latest from the superb series of vintage releases from the late 1970s. Released this October, only 1,000 bottles are in existence worldwide, with each bottle individually numbered, making it no doubt a much sought-after limited edition for all enthusiasts and connoisseurs. RRP is £350.00
True to Auchentoshan's signature contemporary look, this whisky comes in a stylish and understated premium black box. The character of the copper gold liquid is reflected in the copper foiling throughout the packaging and the interior of the box holds an image of a deconstructed Oloroso sherry cask in homage to the importance of the wood maturation process.
This Auchentoshan is a true rarity; distilled on 22 October 1979, the expression has been fully matured in first-fill sherry butts for over 32 years. Bottled at cask strength, the expression is non chill-filtered to preserve maximum intensity of flavour, creating an Auchentoshan of intense spiced fruitiness.
Rachel Barrie, Master Blender at Morrison Bowmore Distillers, adds: "This carefully crafted malt is one of the most intensely fruity Auchentoshans ever to be released. A cornucopia of rich dark fruits and deep spices, this beguiling expression is beautifully dry."
TASTING NOTES FOR AUCHENTOSHAN 1979 – OLOROSO MATURED
A cornucopia of rich dark fruits with Victoria plums, blackberries and raisins, balanced by cinnamon spiced fruitcake. On the tongue, experience bramble jam, dark chocolate, spiced fruit chutney and Madeira cake. Spicy nutmeg, tobacco and pepper linger into the finish.
VALINCH 2012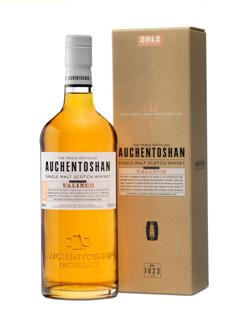 Launched last year in response to popular demand from Single Malt evangelists, the Auchentoshan Valinch was released to great reviews. A non chill-filtered Single Malt Scotch Whisky matured in first-fill North American ex-Bourbon oak casks, the Valinch is a cask strength edition of the acclaimed Classic. For 2012, Auchentoshan is unveiling the second small batch release of this much-lauded malt. Only a limited amount of Valinch are selected for release once a year – 2000 cases globally.
Named after the metal pipette used to draw whisky straight from the cask, this light and refreshing whisky has all the depth of taste, flavour and full body associated with sampling whisky at source. The packaging of this expression tells the story of the whisky, with the bottle reflecting a laboratory bottle complimented by the outer carton; stripped back to basics, exposing the idea of whisky straight from the cask.

TASTING NOTES FOR VALINCH 2012
Pale golden in colour, the first aromas are sweet and creamy crème brulee, followed by an invigorating full-bodied orange zest notes on the tongue. The finish is sweet, crisp and lingering.
For more details, visit www.auchentoshan.com / or www.facebook.com/auchentoshan
Follow us on Twitter @TheAuchentoshan
These bottles are available at all good whisky specialist shops.
Auchentoshan Classic has recently gained a listing in Tesco's.
UK Distributor: Cellar Trends on 01283 217703 or auchentoshan@cellartrends.co.uk
<< View the range of Auchentoshan Single Malts
<< Back to all the latest whisky news brought to you by Planet Whiskies