Whisky News - Tomatin Distillery New Product Release - 21st March, 2013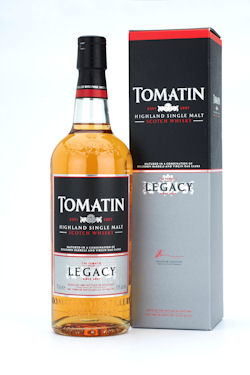 When Tomatin Distillery was established in 1897, the isolated and idyllic setting of Tomatin was almost perfect. However there wasn't a local workforce; the local inhabitants were scattered shepherds and cattle drovers. The company began a project of construction to accommodate its workforce. Since that time the distillery has been at the heart of the community and the community at the heart of the distillery.
This legacy has continued - Tomatin remains one of the few distilleries to provide a home for its dedicated craftsmen - and is now recognised with a permanent addition to the Tomatin Highland Single Malt Scotch Whisky range, "The Tomatin Legacy".
THE WHISKY
Cask Type: Matured in a combination of Bourbon barrels and Virgin Oak casks Strength: 43% alc./vol.
Availability: March 2013, permanent addition to core range
Distribution: Initially Europe then Worldwide
Price: RRP £25.99 per 70cl bottle
This whisky is light and delicate, true to traditional Tomatin style. However the introduction of Virgin Oak casks into the mix offers a new dimension with a vibrant and enticing sweetness.
AROMA
Vanilla pods, marshmallow, sponge cake and fresh pineapple, mixed with citrus lemon and boiled sweets.

PALATE
Light and delicate with a candy sweetness which is peppered with hints of pine. Lemon sherbet, pineapple and crunchy green apples with a touch of freshly baked sponge cake.
FINISH
Clean, light and refreshing.
More details at www.tomatin.com.
<< View Tomatin Single Malt Range
<< View more details about the Tomatin Distillery
<< Read about Planet Whiskies tour of Tomatin DIstillery
<< Read more Graham Eunson Master Distiller
<< Back to all the latest whisky news brought to you by Planet Whiskies