The Lakes Distillery makes history with 'steel bonnets' blended malt whisky: 23rd June 2018
The Lakes Distillery is to release the world's first blend of English malt and Scotch malt whisky.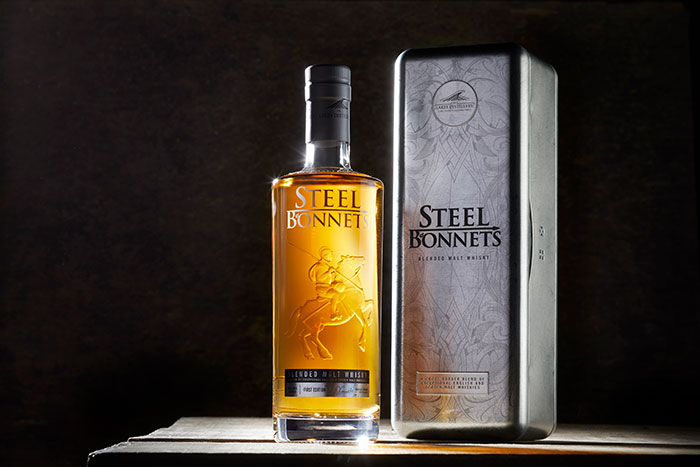 Created with the highest quality malt whiskies from both sides of the border, 'Steel Bonnets' is a combination of The Lakes Single Malt from England and some of the most respected malts from Scotland. 
The name 'Steel Bonnets' pays homage to the memory of the English and Scottish people who lived in the Border Marches from Berwick-upon-Tweed in the East to Carlisle in the West during the 13th-17th centuries. 
Their life was one of constant struggle to survive, exacerbated by the armies of Scotland and England as they marched through the border lands to fight for the right to govern a united Scotland and England. 
The armies took from the people of this land, and in turn they also robbed or reived from others, English and Scots alike. 
In early English, to reive is to rob, and from this were born the Border Reivers nicknamed the 'Steel Bonnets' after the distinctive helmets they wore. 
Allegiance was to kin, not kingdom.  Loyalty was to clan – to family. These loyalties had no border or king, but united them under their clan names, Rutherford, Armstrong, Graham, Fenwick and Johnstone to mention but a few. 
Neil Armstrong, the first man to step on the moon, was descended from a famous Reiver family. It was said that the Armstrong clan could call on more than two thousand men and horse, fully armed, within an hour to fight off their enemies. 
This union of nations and families has been brought back today in the form of 'Steel Bonnets'. 
These families are now spread all over the world and 'Steel Bonnets' is the perfect way to celebrate that illustrious history of family loyalty and comradeship. 
Malt whisky continues to grow in popularity and was worth over £1 billion to the UK economy in 2017. The Lakes Distillery will release its first Single Malt Whisky in July when 99 bottles of The Lakes Genesis Single Malt Whisky will be auctioned with whiskyauctioneer.com. 
Nigel Mills CBE, Co-Founder and Chief Executive Officer of the Lakes Distillery, said: "It was very important to us that our geographical location, its people and its culture were recognised in this new blended malt whisky, 'Steel Bonnets'. The Border Reivers were an integral part of Border history in the 300 years leading up to the union between England and Scotland in 1707, which eventually brought peace to this battle-strewn land."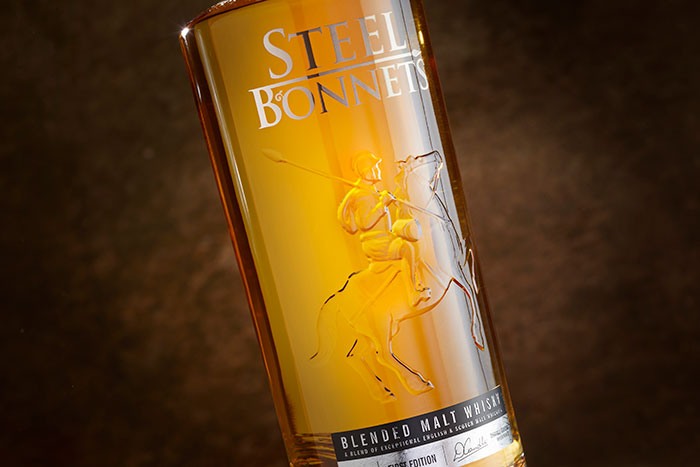 The Lakes Distillery Master Whiskymaker, Dhavall Gandhi, said: "I handpicked the individual malt whiskies to create a unique blend – something that has never been tried before. The whisky, at 46.6% ABV, has a creamy, slightly nutty and full-bodied flavour with notes of vanilla, ginger, nutmeg and hints of dried fruit. All held together with a sweet layer of woodsmoke. A fitting tribute to the history of the Border families." 
Paul Currie, Co-Founder and Chief Operating Officer of the Lakes Distillery, said: "This is a milestone year for the Distillery. We are releasing our first single malts to the public, and establishing the Lakes Distillery as a luxury global whisky brand. We know that people will appreciate the incredible story behind this historic release." 
Alan Rutherford OBE, Chairman of the Lakes Distillery, said: "The Border region has a fascinating history of survival and family loyalty going back centuries. While there is a tendency to think of clanship as a uniquely Scottish attribute, on both sides of the border the tie of tribal blood was strong. 'Steel Bonnets' is a tribute to those people, and their families, who saw themselves as neither English nor Scottish, but rather the 'Steel Bonnets' Reiver warriors."
<< View English whisky on our sister website Great Whiskies
<< Back to all the latest whisky news brought to you by Planet Whiskies