Glenfiddich Launch The Prestigious "Excellence 26 Year Old" | 30th June, 2014

The World's Most Awarded single malt Scotch whisky unveils their latest luxury expression, Glenfiddich Excellence 26 Year Old.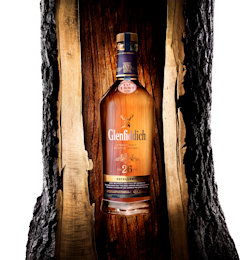 Glenfiddich Excellence 26 Year Old, the latest expression from the World's Most Awarded single malt Scotch whisky, is an important addition to the family run distiller's prestigious collection of aged single malts. It's also the first 26 Year Old expression from the Glenfiddich Distillery. With the amount of thought and care that has gone into this single malt, it has all the ingredients to become a must have for any whisky lover.
The whisky has been matured exclusively in American Oak ex-Bourbon casks for a minimum of 26 years, and as such is a rare liquid of exceptional quality. Glenfiddich Excellence 26 Year Old is also the first single malt from the Speyside distiller to use Bourbon casks throughout the entire maturation process.
"By maturing this expression exclusively in Bourbon casks we've created a beautifully intense flavour, reflective of the relentless passion we have for producing incredible single malts. With notes of lush vanilla, light oak and spice our 26 Year Old, while a new expression, remains true to Glenfiddich's heritage of producing fruity, floral and deeply flavoured whiskies. We believe it to be one of our most desirable expressions yet, making 'Excellence' a truly appropriate name." - Brian Kinsman, Glenfiddich Malt Master
To help celebrate the journey of these unique casks, Glenfiddich commissioned celebrated landscape photographer, Simon Butterworth, to capture 26 images that tell the story of the voyage of the wood which makes this whisky so special. Simon's photographic collection details the journey, from the American Oak being felled, to Scotland for the final seal of approval from Glenfiddich's founder's family, who still run the Glenfiddich Distillery today.
"As a family run company we've always challenged established whisky-making norms because we care personally about the quality of our single malts. We cherish our independence because it allows us to innovate and create superior whiskies, and Glenfiddich Excellence 26 Year Old is a prime example of this. This new addition to our collection of rare single malts confirms that as a company still run by our founder's descendants we remain committed to fulfilling my great-great grandfather's vision to create 'the best dram in the valley'."- Peter Gordon, Glenfiddich Company Director
Presented in an elegant glass bottle with delicate gold lettering, Glenfiddich Excellence 26 Year Old is captured by an oak stopper reminiscent of the Bourbon casks in which it matures. This unique single malt will be a prestigious addition to the collections of whiskey connoisseurs and single malt aficionados all over the world.
Available from 26 June 2014 in luxury whisky retail outlets and any Prestige specialist stores, Glenfiddich Excellence 26 Year Old has a recommended retail price of £350.00.
<< View more from the Glenfiddich Range
<< Read more about the Glenfiddich Distillery and more news
<< Back to all the latest new brought to you by Planet Whiskies