Chivas Regal 12 Year Old Highlights Its Position As A Contemporary Icon With New Packaging :: 9th September, 2015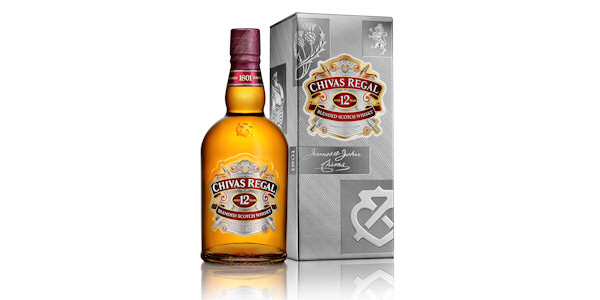 Chivas Regal, the world's first luxury whisky, has unveiled a contemporary new design for its 12 Year Old expression that reinforces the craftsmanship, luxury and heritage of this iconic Scotch whisky.
The new Chivas Regal 12 Year Old bottle retains its round generous shape for which it is renowned, while its shoulders have been raised higher to reflect the brand's pride as one of the world's leading Scotch whiskies. The brand signifier, is now included as a more prominent, organic feature of the bottle, and the signatures of founders James and John Chivas have been added to the glass to display the value of brotherhood at the heart of the brand. The label has evolved to present a simplified and more vibrant look.
The outer carton has been re-designed retaining the icons that hold depth of meaning and provenance to Chivas' rich heritage, and select areas have been embossed and debossed to add a texturalised element to the packaging.
International Brand Director for Chivas Regal, Richard Blacksays: "The new design successfully demonstrates Chivas Regal's ability to carry forward years of brand heritage and craftsmanship in a way that is appealing to modern whisky drinkers. For many, Chivas Regal 12 Year Old acts as an entry point to the brand so it is a tremendous opportunity for us to grab their attention. We have conducted extensive consumer research and are excited to present a new modern look while maintaining our craftsmanship and timeless luxury values."
The new bottle and outer pack will start appearing on shelves from September 2015.
<<To see the history and buy whiskies from Chivas Brothers
<< Back to all the latest whisky news brought to you by Planet Whiskies