The Auchentoshan Switch European Winner Is Announced - 2nd October, 2013
Aidan Bowie from The Blythswood Square Hotel is selected to represent Europe in transatlantic bartender swap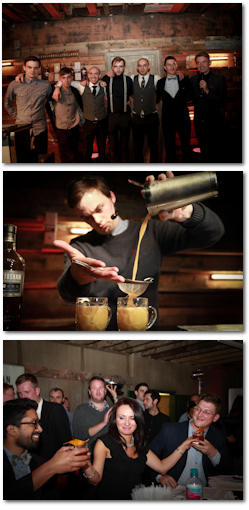 LONDON. 2nd OCTOBER 2013: Last night, Aidan Bowie from The Blythswood Square Hotel in Glasgow, battled it out against 11 of the most talented and creative bartenders on the continent to become the European winner of the Auchentoshan Switch – the transatlantic mixology competition like no other. Aidan's prize will be to "switch" continents with the North American winner and spend two weeks working in the prestigious Dead Rabbit in New York City.
Last night's European final was held at a unique warehouse location in London Bridge where the finalists were put through a series of challenging mixology tasks that were judged by an esteemed panel:
* Rachel Barrie, Auchentoshan Master Blender
* Edmund Weil, co-owner, Nightjar
* Ryan Chetiyawardana (AKA Mr Lyan), cocktail genius
In each round, the finalists demonstrated their skill and creativity in front of the judges and guests. The first round 'Creativity and Presentation' saw the bartenders present their original competition entry of their Auchentoshan Three Wood creation. Round two 'Working Under Pressure' tested bartenders' ability to think on their feet with a secret bag of ingredients given to them just minutes before their presentation. The final round, 'A Cocktail Showdown', saw the two outstanding finalists create Rachel Barrie's favourite cocktail, Blood and Sand.
The competition has been happening throughout the summer, with mixologists from the UK, Sweden, Germany and across the pond in North America entering via the Auchentoshan website and then attending regional heats in their countries. The actual Switch will take place in 2014 when the North American bartender will spend two weeks at the highly acclaimed Nightjar in Old Street, London. The North American final takes place in New York City at the end of this month.
Jennifer Meenan, Brand Manager for Auchentoshan said "This year's Auchentoshan Switch has seen such a high level of skill from the bartending world. We wanted the competition to reflect the brand's personality and we feel that last night's European final did just this with something totally unique. We can't wait to see what happens in the North American final. Next stop New York."
Edmund Weil, competition judge and soon to be mentor of the North American winner alongside the Nightjar team, commented: "The Switch finalists showed so much talent and passion in their Auchentoshan Three Wood creations, the judges were blown away and some difficult decisions had to be made but Aidan just had the edge".
Award winning Auchentoshan Three Wood is the chosen expression for all Auchentoshan Switch entries as its complex flavours add tremendous dimension to whisky cocktails. As with all Auchentoshan whisky, Three Wood is triple distilled, which produces an immensely smooth spirit. It is matured in three different types of casks – first in North American Bourbon casks, then in Spanish Oloroso Sherry casks and finally in Pedro Ximenez Sherry casks, a wood famed for drama and darkness.
This triple cask maturation produces a rich whisky with deep toffee and sherry oak influences, a touch of hazelnut with hints of cinnamon and lemon and a butterscotch sweetness that adds to the overall complexity. It is produced at the Auchentoshan Distillery which was established in 1823 and has produced triple distilled whisky since this time. It is located in the Lowland region of Scotland, on the outskirts of Glasgow and is the city's only distillery. Its name, pronounced "ock-un-tosh-un", means"corner of the field" which is evident to visitors as the distillery sits near farmland on the banks of the River Clyde, in the shadow of the Old Kilpatrick hills between Glasgow and Loch Lomond.
For more information please visit www.auchentoshan.com
PLEASE DRINK INTELLIGENTLY
www.drinkaware.co.uk for the facts about alcohol
<< See more malts from the Auchentoshan Distillery
<< Back to all the latest whisky news brought to you by Planet Whiskies
Get Newsletter
Subscribe to our newsletter to get latest news, popular news and exclusive updates.