Aberlour shows what lies behind the crafting of its rich and complex single malt - 4th February, 2014
Published Date: 4th February 2014
A world-first series of super-macro images of whisky unveil the enigma behind the expert craft and natural beauty of the premium single malt, Aberlour.
The images have been taken by David Maitland, one of the world's foremost nature photographers. Aberlour commissioned him to chart the journey of the whisky's creation taking in microscopic views of the rock, water and wood used in the whisky-making process, such as the granite mountain from where the distillery takes its spring water, the oak staves from specially selected casks in which the whisky is matured, and finally uncovering never-before-seen glimpses of the single malt itself.
The photography uses a variety of techniques to capture some of the natural elements that contribute to the unique flavour of this single malt Scotch, from a glimpse inside each grain of barley to the actual rings from an oak cask and the crystalline structure of the final spirit itself.
The six images show:
Pink mountain granite from Ben Rinnes: water runs down Ben Rinnes over this impervious material which maintains the water's purity and softness before it rises in springs close to the distillery

Spring water, soft and fresh, rising in the Birkenbush Wood and exclusively used for making the Aberlour single malt range

Malted Barley: specially prepared to provide the key sugars from which the whisky to be distilled – the platform for its unique flavour

Sherry cask: special oak casks sourced from Spain in which the spirit makes its transformation into Scotch whisky, made from European oak whose open grain has an unique influence during the years of maturation

The rich and sweet 'Aberlour 12-year-old' award winning single malt

A'bunadh: Aberlour's expertly hand-crafted and uncompromising cask strength single malt
Dr Maitland, a European Wildlife Photographer of the Year, said: "I was asked to discover how all the different elements help craft Aberlour. The positioning of the distillery at the foot of Ben Rinnes, and surrounded by the natural water springs, plays a vital part in the creation of each bottle of single malt, as do the casks in which the whisky is aged. Having the chance to photograph this journey was a rare privilege."
Aberlour single malt dates back to James Fleming, a local banker and philanthropist who founded the distillery in 1879. The whisky was crafted with James Fleming's motto, 'let the deed show' in mind, which remains true today as the distillery allows unique depth of flavour to do the talking.
"Super macro photography can reveal many surprises. The crystal structures in the 12-year-old and A'bunadh were simply beautiful and frequently appeared to echo the unique and subtle characters of each whisky." added David Maitland.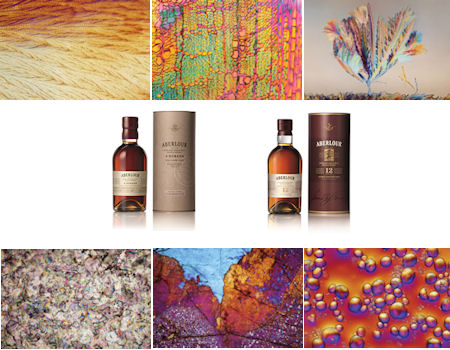 Aberlour's Brand Director, Nikki Burgess, said: "Even for its distillers, single malt retains some mysteries. David's photos have shown beyond the glass and cask and allowed us an insight into the natural elements and distillers' craft which are vital to the creation of this enigmatic single malt. The photography has brilliantly captured the coming together of the natural elements and the expert craftsmanship of our distillers, while also maintaining the enigma behind the award-winning taste of Aberlour."
For more details see their website Aberlour Distillery
<< See the full range of Aberlour Single Malt Whiskies
<< Back to all the latest whisky news brought to you by Planet Whiskies