Latest Whisky News -The Macallan Single Malt Whisky
The Macallan Announces New Global Marketing Manager, 7th August, 2012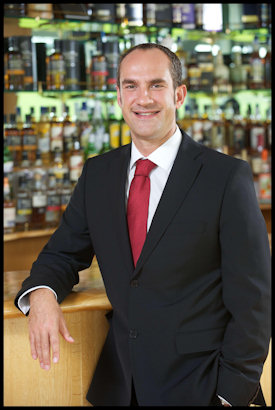 The Macallan, single malt whisky, distributed by Maxxium UK, has announced a significant new addition to its global brand team with the appointment of Jaume Ferràs Santín as Global Marketing Manager.
Ferràs Santín brings over 16 years of experience in the spirits industry. He joins The Macallan after 5 years working for Bacardi Spain where he held the position of Marketing Manager for Martini for the last two years. During his tenure he oversaw the 360º launch of Chispazo (Martini & Coca Cola); Martini Dolce & Gabbana and the Martin brand campaign, "Luck is an Attitude". He was also heavily involved in a range of market leading NPD projects and brand extensions. Prior to this Jaume was Innovation Manager for Bacardi in the EMEA region and also Group Brand Manager for Bacardi Spain.
Having previously worked with Edrington as a Brand Manager for The Famous Grouse, and also overseeing the Group's brands whilst at Maxxium Spain, Jaume is well-versed in the company and The Macallan, having worked closely on the launch of Fine Oak in Spain in 2004.
Commenting on the appointment, Ken Grier, Director of Malts at Edrington said, "We have been seeking to fill this pivotal role for some time and with Jaume's appointment we have found the right man for the job! His depth of experience and insight is first class and I am sure he will bring great thinking and charisma to The Macallan global brand team. We are at entering a crucial time for the brand and Jaume's mix of spirit and luxury knowledge will undoubtedly help us realize our ambitions for this exceptional brand."
The new addition to the team, Jaume Ferràs Santín said, "I have incredibly happy memories of working with Edrington, its people and its brands during my career, so I was delighted to be offered the role with The Macallan. The changing shape and footprint of the brand over the past few years is incredible and to be coming in to the team when The Macallan continues to outperform the category, is a dream come true. "
In his new role Jaume will be responsible for developing the overall positioning of The Macallan, working with partners from around the world, and driving the creative development of the brand. Working as part of the global brand team he will be involved in all key global platforms and initiatives, ensuring consistency and collaboration.
<< View Single Malt Whiskies in The Macallan range
<< Back to all the latest whisky news brought to you by Planet Whiskies