Highland Queen blends come out on top at two global industry award ceremonies
Published Date: 7th June 2018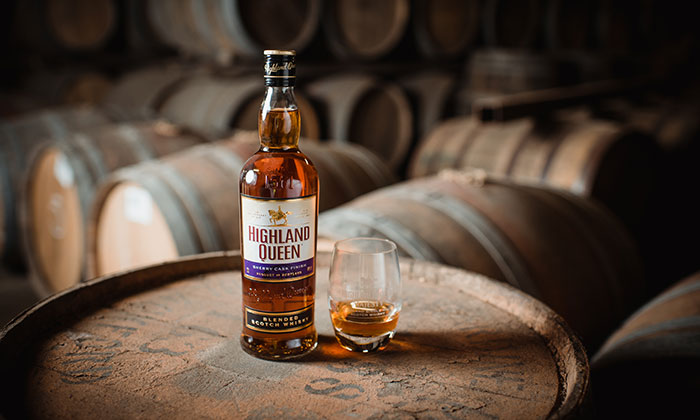 Two Highland Queen blended scotch whiskies have impressed the judging panels at two internationally acclaimed industry awards ceremonies – the International Spirits Challenge and The Scotch Whisky Masters.
Highland Queen Sherry Cask Finish, which has been extra-matured in the specially selected Spanish sherry casks for a minimum of 9 months, won the gold medal at both awards ceremonies. The expression has continued to impress some of the industry's most respected judges with its sweet, spicy flavour profile which boasts indulgent notes of marzipan and dried fruit. This year marks the blend's second consecutive Gold award at The Spirits Business Scotch Whisky Masters, and last year it also won Silver Outstanding at the International Wine and Spirits Challenge and Silver at International Spirits Challenge.
The brand's core expression, Highland Queen Blended Scotch Whisky, was also awarded the silver medal by both expert judging panels following a blind tasting, affirming itself as a delicious and classic blend.
Matthew Johns, Commercial Director at Highland Queen said: "Winning two gold and two silver medals at spirits award ceremonies of this calibre is fantastic news. Both the classic blend and sherry cask finish are continuing to impress top judges as well as consumers around the world in what is a very competitive market of quality blended scotch whiskies.
The International Spirits Challenge is recognised as a leading and influential spirits competition around the world which receives more than 150 entries from over 70 countries each year and is blindly judged by renowned spirits experts.
The Scotch Whisky Masters, part of the Global Spirits Masters has continued to seek and reward excellence from across the world, encouraging recognition among consumers and trade for quality in spirits. For the past decade, the competition has sought to retain its individuality as the only blind spirits tasting competition to use carefully selected and completely independent judges, including experienced bartenders, spirits journalists, and spirits educators.
<< View blended whisky range on Planet Whiskies
<< Back to all the latest new brought to you by Planet Whiskies