Chivas Brothers - Market sees Chivas Introduce The Night Magnum - 3rd September 2012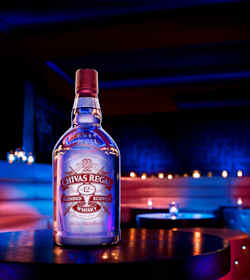 Chivas Regal, the world's original luxury Scotch whisky, has launched a permanent bottle exclusively for the on-trade – Chivas Regal 12 Year Old Night Magnum.
The Night Magnum will disrupt premium and VIP on-trade venues by tapping into occasions that are typically owned by premium white spirits and Champagnes.
Global Brand Director for Chivas Regal, James Slack, says: "When people purchase a bottle in an exclusive venue they are either ordering bottle-to-table vodka for the night ahead or Champagne to celebrate a moment. The Night Magnum will introduce Scotch whisky to these occasions, ensuring increased visibility for Chivas in the premium on-trade environment."
The eye-catching 1.5 litre Night Magnum has a metallic finish and a burgundy Chivas Regal emblem. It will be available in more than 30 markets, including China, Brazil, Japan, France and Malaysia.
<< Back to all the latest whisky news brought to you by Planet Whiskies