BenRiach Launches Its First Glenglassaugh Bottling - 30 Year Old Single Malt - 29th August, 2013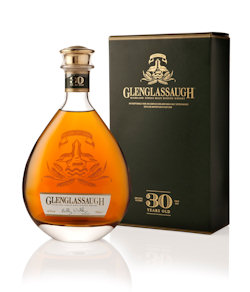 The BenRiach Distillery Company, which bought the Portsoy-based Glenglassaugh distillery in March, is today (29 August) releasing its first Glenglassaugh expression – a superb 30YO single malt.
Back in March, BenRiach's MD and Master Blender Billy Walker said: "It's our intention to bring this iconic distillery fully back to life by giving it the investment, commitment and care it deserves. I believe our whisky expertise, proven brand-building ability and strong routes to market will help take Glenglassaugh to the next level."
The next level starts with this magnificent 30YO and Mr Walker's tasting notes show how appropriate it is that this very special Highland single malt, at 44.8% vol, should be the very first Glenglassaugh to be released by BenRiach.
Tasting Notes for Glenglassaugh Bottling - 30 Year Old Single Malt
Colour: Amber.
Nose: Rich, complex and full with luxurious tropical fruits of peach, mango and banana, complemented with sultanas, sherry and gentle oak spice.
Palate: Sweet and soft with near perfect balance of fruit; mango, orange, figs and sweet sultana followed by a wave of sherry, toffee and ginger oak spice.
Finish: Warm, soft and gently spiced.
Sales Director Alistair Walker said: "We're delighted to release our first Glenglassaugh expression five months after taking over the distillery. The 30YO is a great example of the unique Glenglassaugh character - complex fruit flavours, sherry overtones, spices and a lasting finish. It's the first of a number of planned developments we have for our new brand which is in response to strong demand for Glenglassaugh in global markets."
If you would like to receive more information, please contact us on info@glenglassaugh.com
See all the Single Malts Whiskies from BenRiach Distilery
Read more about the history and see contact details for BenRiach distillery
<< Back to all the latest whisky news brought to you by Planet Whiskies