BenRiach Launches Dunder, A Stunning Peated 18 Year Old Dark Rum Finish
Published Date: 1st May 2015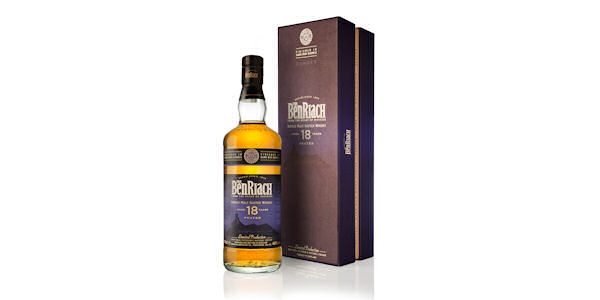 Global Whisky Distiller of the Year BenRiach today (30 April 2015) launches "Dunder", an extraordinary Peated 18 Years Old Dark Rum finish from its Elgin distillery.  
The BenRiach Dunder is a one-off bottling with only 1888 bottles available worldwide.  
This intriguing new Speyside expression, from the same range as the BenRiach Albariza, takes its unusual name from the residue of cane juice left in a still after distilling a batch of rum.  
Traditionally used as a yeast source in the fermentation process of Jamaican rum, it gives the rum a unique aroma and flavour.  
Dunder, at 46% vol, is distilled from peated malted barley and is initially matured in American oak casks and then finished in dark rum barrels.
It combines the distinct and contrasting aromas and flavours associated with richly peated malt whisky and the elegant style of wood selected for final maturation.  
The tasting notes show this is set to be an interesting addition to the BenRiach portfolio.
Colour - Summer harvest straw.  
Nose - Crisp candied peel holds waves of soft peach and ripe banana dusted with Demerara sugar. Delicate rounded peat smoke combines with gentle sweet oak spices.  
Taste - Dramatic peat smoke and barley complement crisp citrus zest, white pepper and fresh ginger. Caramelised orchard fruits and dried apricots develop to a rich grassy wood smoke finish.  
Sales Director Alistair Walker said: "Our limited edition Dunder is the latest addition to our new heavily peated range which has been warmly welcomed worldwide.  
"Thanks to the sharpness of the campfire peat taste you might initially think this is an Islay malt but it is definitely a Speyside! As the aromatic sweetness of the peach and banana kicks in, it mellows to a distinctive and flavourful peated dram that will linger long in your memory."
See all the Single Malts Whiskies from BenRiach Distilery
Read more about the history and see contact details for BenRiach distillery
<< Back to all the latest whisky news brought to you by Planet Whiskies