Wemyss Malts signs up new sales manager, Jacqueline Sutherland - 5th February, 2013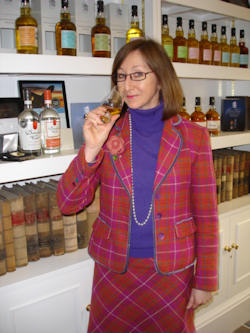 .Edinburgh based Wemyss Malts is delighted to announce the recent appointment of a new regional sales manager, Jacqueline Sutherland. Jacqueline will be responsible for the key markets of North America, UK and Scandinavia for the Wemyss Malts portfolio of Scotch whisky and Darnley's View Gin.
Born in Oban in Argyll, Jacque studied at the now named Caledonian University before spending some time travelling and working overseas, where she found that her Scottish accent prompted many discussions from curious and knowledgeable whisky drinkers. Most recently, she spent 6 years working for another independent bottler in Scotland before joining Wemyss Malts in January of this year.
Jacque is joining Wemyss Malts at an exciting time. Indeed, William Wemyss, CEO and founder of Wemyss Malts, commented; "We are delighted to have Jacque join the Wemyss Malts team. She is joining us at a busy time both for Wemyss Malts and also as the Wemyss family is about to start building a new distillery by Kingsbarns in Fife."
Commenting on her new role, Jacque adds: "My education in Scotch whisky did indeed start while I was working overseas. I was asked so many questions about Scotch that I decided to learn more about it and returned to Scotland with a good grounding in the subject! With the Wemyss family's distillery project announced as I arrived, I feel honoured to be working with such a creative team and look forward to being an ambassador for their gin and whisky range."
Read more about Wemyss Malts and buy online
<< Back to the Wemyss Malts main page
<< Back to all the latest whisky news brought to you by Planet Whiskies