Wemyss Malts new Single Cask releases including cask strength "Kirsch Gateau" from Islay :: 5th February, 2015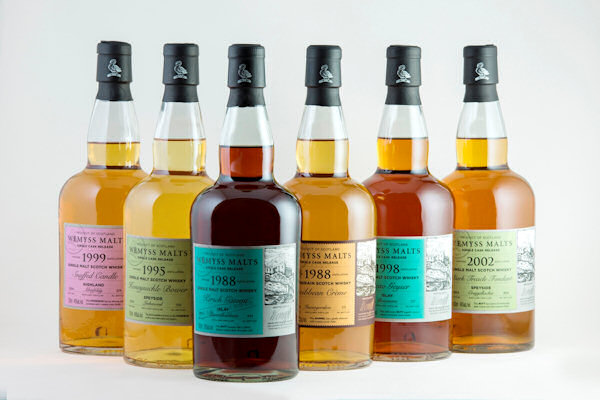 Family-owned Wemyss Malts is delighted to announce the release of a new selection of single cask Scotch whiskies. This mouth-watering collection of new whiskies is named after the unique natural taste and aroma of each one. The new offering includes cask strength "Kirsch Gateau" from Islay and a further single grain single cask.
The full cask list of this release comprises:
"Kirsch Gateau" 1988 single cask from Bunnahabhain Distilery, Islay, Cask Strength "Cacao Geyser" 1998 single cask from Bowmore Distillery, Islay
"Snuffed Candle" 1999 singe cask from Aberfeldy Distillery, Highlands
"Dark Treacle Fondant" 2002 single cask from Craigellachie Distillery, Speyside "Honeysuckle Bower" 1995 single cask from Linkwood Distillery, Speyside
"Caribbean Crème" 1988 single cask from Invergordon Distillery, grain
Each cask has been selected and named by the Wemyss tasting panel, under the watchful eye of industry aficionado Charlie Maclean. There are only a few hundred bottles from each cask and the suggested retail prices range from £65 to £130. These bottlings will be available in selected retailers in the UK, EU and key Asian markets.
William Wemyss, Founder and Managing Director at Wemyss Malts, commented: "We are delighted to introduce another excellent selection of single casks, named as always by our hard-working and creative tasting panel. We've selected a Bunnahabhain sherry butt to be bottled at cask strength in this release named Kirsch Gateau after its rich mahogany colour and palate of tempting dark chocolate and liqueur soaked cherries."
Read more about Wemyss Malts and buy online
<< Back to the Wemyss Malts main page
<< Back to all the latest whisky news brought to you by Planet Whiskies