Wemyss Malts launches new blended Scotch Whisky Lord Elcho with Tasting Notes
Published Date: 8th April 2014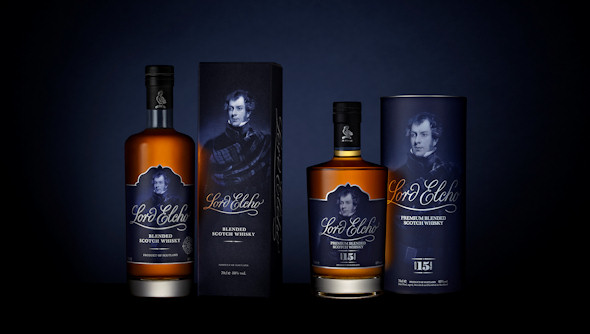 Edinburgh based boutique spirits company Wemyss Malts is delighted to announce an addition to its blended Scotch brand, Lord Elcho.
Originally launched in 2012 as a 15 years old blended Scotch, Lord Elcho is now also available without an age statement.
The whisky is named after Wemyss Malts founder's 18th century ancestor who was a loyal supporter to Bonnie Prince Charlie and led his lifeguards at the Battle of Culloden during the ill-fated Jacobite uprising in 1745. For his part in the uprising, Elcho was stripped of his title and lands and exiled to France, never returning to his native Scotland.
Lord Elcho's - 15 Year Old Blended Whisky from Wemyss Malts
Lord Elcho's character has been recreated in this new blended Scotch whisky; crafted from a carefully chosen selection of the finest malt and grain whiskies with a high 40% malt whisky content.
The nose on the new whisky is fresh and lively, with notes of fruit salad and fragrant wood shavings. The palate is full and soft, with waves of chewy caramel and a warm spiciness. Its finish is dry and long, with hints of crushed nuts.
William Wemyss, Founder and Managing Director at Wemyss Malts, commented: "The continued growth of Scotch whisky across the world has encouraged us to launch our second entrant into the blended Scotch segment. We expect to bring interest from new export markets with our second Lord Elcho whisky. This excellent whisky is presented in high quality gift packaging."
Lord Elcho's Tasting Notes - 15 Year Old Blended Whisky from Wemyss Malts
Name: "Lord Elcho"
Age: Non-Aged
Bottling Date: January 2014
Volume: 40%
Lord Elcho's Tasting notes and observations
Colour: Copper Gold Nose: Fresh and lively. A fruit salad of green apple, grape and pear. Warmer notes of freshly cut hay follow. Fragrant eucalyptus infused wood shavings.
Palate: Full and soft with waves of chewy caramel. A hint of ginger syrup reveals a warming spiciness. Lovely neat, but water develops the spiciness with notes of red fruits like pomegranate.
Finish: Dry and long. Crushed brazil nuts.
Read more about Wemyss Malts and buy online
<< Back to the Wemyss Malts main page
<< Back to all the latest whisky news brought to you by Planet Whiskies