Teacher's Whisky - Teacher's Introduces Gift Carton for Christmas - 10th November, 2011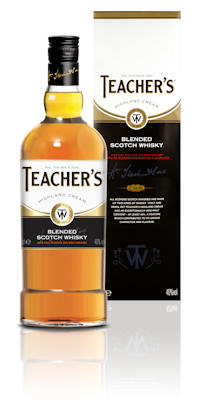 10.11.11 - Teacher's blended Scotch whisky, distributed by Maxxium UK, is launching a special gift carton into the retail sector, a first for the brand since 1988, in the lead up to Christmas.
The Teacher's 70cl gift carton will be available over the festive period and the move highlights Maxxium's investment into the brand, which is one of the UK's top five premium blended whiskies.
This distinctive brand, established in 1830, has one of the highest malt contents of any blend, ensuring a rich and complex flavour of true quality. The 'fingerprint' malt in Teacher's is Highland single malt Ardmore, which imparts a smoky richness. Teacher's has a long history of quality and innovation and in 1913 was the first drinks brand to introduce the 'self opening bottle', known today as the screw cap.
Peter Sandstrom, Marketing Director, Maxxium UK commented: "Teacher's is one of the only blends to be in a gift carton this Christmas, which will provide an enhanced on shelf presence, and appeal to consumers looking for a premium and authentic blend this festive season. It is well known for having an exceptionally high malt proportion, guaranteed to be at least 45%, which really delivers a unique and balanced blended whisky with tastes of full rich malts and maturity."
Teacher's 70cl will also be available in the cash and carry sector as a £12.49 priced marked pack during the Christmas sales season.
<< Back to all the latest whisky news brought to you by Planet Whiskies