Latest whisky news - Smokehead at the Classic Rock Roll of Honour Awards - 22nd October 2009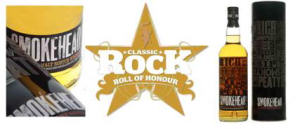 Smokehead at the Classic Rock Roll of Honour Award - Plus the chance to win tickets to Classic Rocks' Award Week gigs
Smokehead Islay Single Malt Scotch Whisky is to be served at the iconic Classic Rock Roll Of Honour awards, cementing its position as an edgy, top quality brand.
"Smoke and Coke" will be the drink of choice at the fifth Classic Rock Roll Of Honour awards gala ceremony, which takes place Monday 2 November at the Park Lane Hotel, London. Smokehead will be served during the reception as well as after dinner and at the exclusive after show party in Mayfair.
<< Back to all the latest whisky news brought to you by Planet Whiskies
Aimed at the modern, discerning and adventurous drinker, like the music, Smokehead is powerful, intense and not for the faint hearted. Guests will be able to sample the whisky's immense peaty flavours simply with a drop of water, over ice or in a classic combination - "Smoke and Coke".
The competition at the industry leading awards is fierce with legends such as AC/DC, Metallica and Guns 'N' Roses going head to head and ZZ Top, Def Leppard and Motorhead locking horns with The Who, Pearl Jam, Black Sabbath, The Kinks and Deep Purple.
For rock fans not lucky enough to be attending the awards, Classic Rock is staging shows headlined by world-famous musicians at intimate venues across London and there are two pairs of tickets to be won courtesy of Smokehead.
On 4 November British rock veterans Uriah Heep continue their 40th anniversary celebrations in an up close and personal setting at the Relentless Garage, Islington, playing all the hits and some surprises.
Paul Rodgers plays the time-honoured west London venue, The Hammersmith Apollo on 6 November. From Free, to Bad Company, to The Firm, to Queen + Paul Rodgers… the frontman has had a star-studded career, and then some.
For the chance to win a pair of tickets to see either Paul Rodgers or Uriah Heep simply log on to www.smokehead.co.uk. Two runners up will also receive a bottle of Smoke head.*
Classic Rock Magazine's Editor-At-Large Geoff Barton said, "Now in their fifth year, our Awards have established themselves as the most prestigious event on the classic rock calendar.
"We are extremely proud to align ourselves with an innovative and adventurous brand such as Smokehead. The immense rollercoaster of flavours is the ideal drink to serve to our rock royalty."
Iain Weir, Marketing Director for Ian Macleod Distillers, Smokehead's brand owners commented: "It is a great honour to be able to serve our whisky to such a prestigious gathering of rock music's elite. Smokehead has such a big powerful flavour and masculine edge making it ideal for the occasion, and for the rock gods attending."
Described as being like a cannonball, Smokehead is an explosive combination of peat, smoke and spice with some delicate sweetness. The single malt flavour is described as fresh, fruity and immense, with notes of sherry, iodine, toffee, smoke and sea salt. The taste hits the palate at once with cocoa, peat and some honey sweetness, before exploding with peppery spice and more earthy peat.
Smokehead is widely available throughout the UK and worldwide, RRP £29.99. Details of all stockists, including Sainsbury's can be found on the website www.smokehead.co.uk
Curious to discover more, visit www.smokehead.co.uk
Smokehead Islay Single Malt Scotch Whisky encourages responsible drinking
www.drinkaware.co.uk ~~ www.scotch-whisky.org.uk
<< Back to all the latest whisky news brought to you by Planet Whiskies