Scotch Whisky Association :: Scotch Whisky distilleries attract more than 1.5 million visitors :: Visitors Spend £50m at distilleries :: 26th May, 2015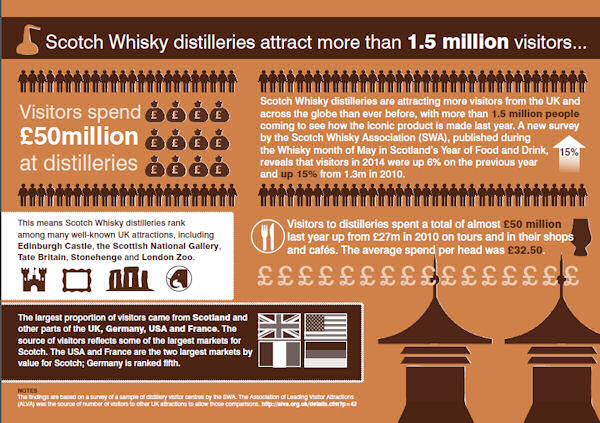 Scotch Whisky distilleries are attracting more visitors from the UK and across the globe than ever before, with more than 1.5 million people coming to see how the iconic product is made last year.
A new survey by the Scotch Whisky Association (SWA), carried out for the Whisky month of May in Scotland's Year of Food and Drink, reveals that more than 1.5m people were attracted to distillery visitor centres across the country in 2014, up around 6% on the previous year. And this was an increase of more than 15% from just under 1.3m in 2010.
This means Scotch Whisky distilleries collectively, in terms of visitor numbers, are among some of the best-known UK attractions, including Edinburgh Castle, the Scottish National Gallery, Tate Britain, Stonehenge and London Zoo.
The largest proportion of visitors came from Scotland and other parts of the UK, Germany, USA and France. The source of visitors reflects some of the largest markets for Scotch. The USA is the biggest market by value for Scotch, followed by France and Germany ranks at number five.
Visitors to distilleries spent a total of almost £50 million last year on tours and in their shops and cafes, up from £27m in 2010. The average spend per visitor last year was around £32.50. The increase in spend in recent years reflects investment by producers to enhance their visitor centres and to provide a wider range of offerings, such as special bottlings, tailored tasting and blending sessions. Increased spending will have a positive impact on local communities around distilleries and the wider economy.
The findings of the SWA's survey reflect figures published earlier this month by the Office of National Statistics showing tourism visits to Scotland increased by 5% between 2013 and last year, with visitors spending more than before.
Julie Hesketh-Laird, Scotch Whisky Association deputy chief executive, said: "During Scotland's Year of Food and Drink, and particularly during the Whisky month of May, our survey shows just how many people want to visit distilleries to see how Scotch Whisky is made, try a dram and buy a bottle to take home to family and friends.  Every year, distilleries are attracting more visitors from the UK and all parts of the globe.
"Scotch Whisky producers are investing in their centres and shops to give visitors the best possible experience. As well as providing another source of income for producers, the increasing number of visitors is good for the wider Scottish economy. Visitors are spending more at distilleries and are likely to being doing the same with other businesses, including hotels and restaurants. It also helps put Scotland on the map."
Mike Cantlay, VisitScotland chairman, said: "There is clearly a growing appetite amongst visitors to sample the secrets behind Scotland's national drink and with the greatest concentration of whisky distilleries in the world right here on our doorstep there is certainly plenty to enjoy.
"Research shows time and time again how popular distilleries are with visitors and with five distinct whisky regions, each producing their own unique characteristics and flavours, every visit offers a different taste of the county's important whisky tourism industry.
"With the Year of Food and Drink well underway and this year's Whisky Month celebrations nearing an end, I hope Scots and visitors to Scotland, novices and whisky enthusiasts alike, continue discovering our distilleries in 2015 and beyond as there is no better place to experience an authentic Scottish dram – sláinte!"
Scott Fraser, Tomatin Distillery visitor centre manager, said: "Our visitor numbers are increasing, as is the amount people spend when they come to see us. We've completely revived our tour offering and the feedback has been brilliant, both from private tourists and an increasing number of coach tour business. The brand has been performing well in the UK and in our export markets and this has had a direct impact on our visitor numbers. We're delighted that tourists are now not only choosing to visit Tomatin Distillery because of its convenient location, but also because they now know and love the brand."
Mickey Heads, Ardbeg Distillery manager said: "Distilleries like Ardbeg have become a place of pilgrimage for the Single Malt Whisky faithful and these findings echo the growth in visitor figures we have experienced. We pride ourselves on being one of the island's fastest growing distilleries.

"We firmly believe Ardbeg encapsulates all that Islay has to offer, in all its raw natural beauty. This year marks Ardbeg's 200th Anniversary and we look forward to sharing the true spirit of this whisky with many more visitors and raising a dram to the next 200 years!"
<< Back to all the latest whisky news brought to you by Planet Whiskies
Distillery of the Month: November 2023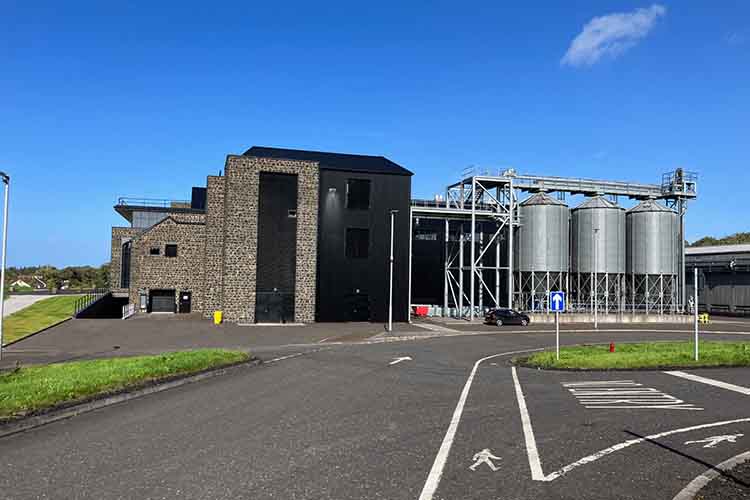 Planet Whiskies visited the new Bushmills Distillery in Northern Ireland on the 25th and 26th of September. Read our review of the experience of Bushmills and Northern Ireland at Planet Whiskies tour of Bushmills and Northern Ireland
You can also read the whole section about Bushmills Distillery at Bushmills Distillery Information on Planet Whiskies... So Bushmills is Planet Whiskies Distillery of the Month title for November 2023
Get Newsletter
Subscribe to our newsletter to get latest news, popular news and exclusive updates.