Loch Lomond Wins 'Most Awarded Distillery' At San Francisco World Spirits Competition: Independent Distiller Gains Huge Momentum Worldwide for its Exceptional Whiskies
Published Date: 21st June 2023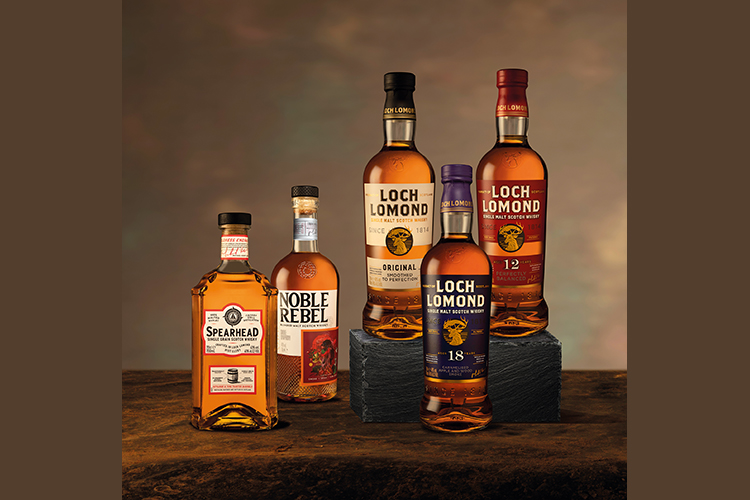 The Loch Lomond Distillery has won "the most awarded distillery" at the globally renowned San Francisco World Spirits Competition 2023, picking up multiple Double Gold and Gold Awards for its collection of malt whisky brands.
Located just off the banks of Scotland's iconic Loch Lomond, the Loch Lomond Distillery can trace its roots back over 200 years. Today, it crafts three distinctive whisky styles including its flagship Scotch single malt brand Loch Lomond Whiskies; its single grain whisky, Spearhead; and its latest creation Noble Rebel, a range of blended malt Scotch whiskies.
Together, these brands have received a total of 21 accolades at the industry leading San Francisco World Spirits Competition 2023, winning the highly coveted 'Most Awarded Distillery of the Year'.
Loch Lomond Distillery has been gaining huge momentum in recent years, with a refreshed focus, and increased investment leading to exceptional growth in markets around world.
This latest acknowledgment from the industry underlines its growing credibility as one of the most exciting distillers of the time. Judges praised the distillery for its consistency, quality and innovation.
In total, it scooped up nine highly coveted Double Gold Awards, seven Gold Awards, and five Silver Awards, for a selection of core range and limited-edition products. Amongst the Double Gold winners were the Open Course Collection and the Open Special Edition, two new releases this year to celebrate the partnership between Loch Lomond Whiskies and The Open Golf Championship which is a fitting way to kick off a second five-year deal between the two organisations
Inspired by its surroundings and fuelled by an eternal spirit of exploration, the distillery takes a bold and inventive approach to whisky making, using incredible feats of engineering to craft exceptional flavour profiles in a unique way.
While all follow their own unique journey and whisky making process, Loch Lomond Whiskies, Spearhead and Noble Rebel, are bound by their innovative style. The Loch Lomond Distillery is the only one of its kind in Scotland to use a combination of traditional Swan Neck Stills and unique Straight Neck stills to craft its whisky. These Straight Neck Stills are a defining feature of the distiller and allow the Master Blender to manipulate flavour at the point of distillation, creating a lighter spirit characterised by a distinctive fruit flavour. As one of only four distilleries in Scotland to have an onsite cooperage, it can also take complete control over the whisky making journey ensuring that barrel repairs and charring are carried out to an exacting standard.
Colin Matthews, Chief Executive Loch Lomond Group, said: "Loch Lomond Distillery has received significant investment in recent years allowing us to expand our whisky making capabilities and develop new styles in the single grain and blended malt categories.
"It is one of the most innovative in Scotland, using bold techniques to explore flavour creation in an inventive and creative way. We have been distilling whisky this way for generations, but are only just starting the realise the potential of our capabilities.
"To receive over 20 individual awards for our whiskies underlines the work that has been delivered in recent years to define our ranges. It is a huge step forward in our growth plans and something we are incredibly proud of.
"This is the start of an exciting journey for Loch Lomond Distillery and we have a number of exciting releases and initiatives in the pipeline."
One of the fastest growing top 25 single malt brands in the world, Loch Lomond Whiskies is a range of classic single malt Scotch whisky, known for its distinctive house style of fruit, honey and soft smoke. The Official Spirit of The Open, Loch Lomond Whiskies has crafted a number of limited-edition golf-inspired single malts, which received exceptional feedback at this year's San Francisco World Spirits Competition 2023.
Spearhead is a single grain whisky, made from 100% malted barely and distilled in a copper coffey still, rather than a traditional pot still, before being finished in infrared toasted barrels.
Noble Rebel is the last brand to launch from Loch Lomond Distillery; a collection of blended malt Scotch whiskies that seek to break the norm by combining new ideas with deep-rooted traditions in whisky making. Launched in February 2023, in just a few months it has been an extraordinary success in the UK.
Loch Lomond Distillery received the following accolades at San Francisco World Spirits Competition 2023;
Double Gold Award
Loch Lomond Whiskies
Core range - Loch Lomond Whiskies 12 Years Old Inchmurrin
Core range - Loch Lomond Whiskies 12 Years Old Inchmoan
Core range - Loch Lomond Classic
Limited edition - Loch Lomond Whiskies Open Special Edition 2023
Limited edition - Loch Lomond Whiskies Open Course Edition 2023
Limited edition - Loch Lomond Whiskies Single Grain Coopers Collection
Global Travel Retail Exclusive - Loch Lomond Whiskies 8 Years Old Madeira
Global Travel Retail Exclusive - Loch Lomond Whiskies 18 Years Old Inchmurrin
Noble Rebel
Noble Rebel Orchard Outburst
Gold Award
Loch Lomond Whiskies
Core range - Loch Lomond Whiskies 10 Years Old <
Core range - Loch Lomond Whiskies 12 Years Old Perfectly Balanced
Core range - Loch Lomond Whiskies 14 Years Old
Core range - Loch Lomond Whiskies Single Grain (Peated)
Global Travel Retail Exclusive - Loch Lomond Whiskies 14 Years Old Inchmoan
Noble Rebel
Noble Rebel Smoke Symphony
Spearhead
Spearhead
Silver Awards
Loch Lomond Whiskies
Core range - Loch Lomond Whiskies Original
Core range - Loch Lomond Whiskies 18 Years Old
Core range - Loch Lomond Whiskies Single Grain (Unpeated)
Core range - Loch Lomond Whiskies Single Grain Distiller's Choice
Noble Rebel
Noble Rebel Hazel Harmony
* IWSR, Drinks Market Analysis 2021
More Whisky News