Loch Lomond Group launches new whisky brand Noble Rebel. Innovative blended malt in three diverse flavour expressions
Published Date: 16th February 2023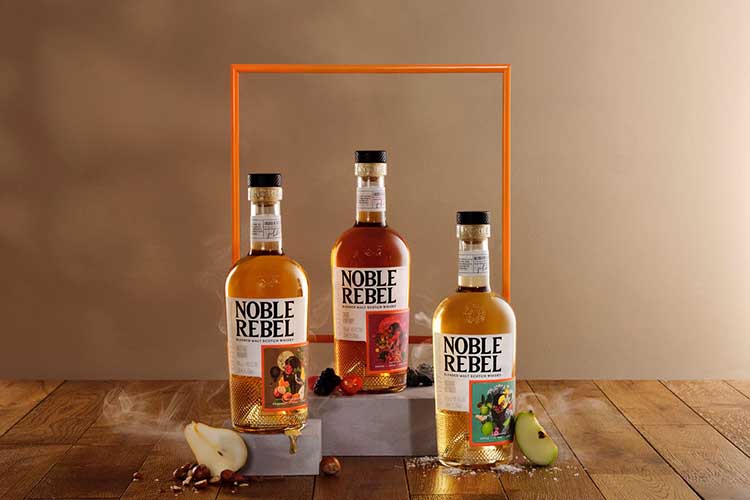 Loch Lomond Group has launched Noble Rebel; an innovative and bold new blended malt Scotch whisky brand that creatively pushes boundaries in the pursuit of flavour creation, combining the nobility of single malt whisky with the rigour of craftsmanship.
Drawing on centuries of know-how and deep bonds with like-minded distilleries, Noble Rebel blended malt whiskies are forged on the innovative spirit of Loch Lomond Distillery, the exquisite dram of Glen Scotia, and riveting liquids from trusted partners.
Available in three distinct expressions - Orchard Outburst, Smoke Symphony and Hazelnut Harmony - the flavours of Noble Rebel are brought to life through a series of vivid illustrations that detail the intricate stories, layers and tasting notes of each expression.
Each bold illustration is complemented by Noble Rebel's premium embellished bottle, designed to replicate the heavy, intricate base of an old-fashioned rocks glass in tribute to the characterful flavours found within. Finished with the words 'Noble' and 'Rebel' embossed on opposite sides of the bottle lip, this intricate touch demonstrates the two faces of the brand; to visually showcase the nobility of single malts combined with Noble Rebel's rebellious nature and ethos of pushing the boundaries of creativity in whisky blending.
Matured in ex-bourbon casks, Orchard Outburst balances crisp, ripe orchard fruits with surprising flavours of crashing salty ocean waves, resulting in an explosion of zest with hints of zingy lemon and lime. This intriguing malt contains whisky distilled with Chardonnay wine yeast, an unusual ingredient in whisky distillation which helps to intensify fruit and citrus flavours in the finished blend.
Smoke Symphony weaves threads of peat and smoke with hits of chilli. Lightning bolts of rich red body married with subtle berry tartness create a truly intriguing dram. Finished in Rioja wine casks, Smoke Symphony conveys notes of smoke, spice and dark berries.
Hazelnut Harmony mingles nuts with a hint of sweet honeycomb, with subtle pear undertones meeting imprints of warm oak. Completing the trio of expressions, Hazelnut Harmony is finished in toasted American oak casks, which adds a sweet flavour of honey, vanilla and hazelnut to the whisky.
Each expertly blended, no-age-statement blended malt whisky is non-chill filtered, natural in colour and bottled at 46% ABV.
All three Noble Rebel expressions are sealed with an emblem containing a droplet to represent the distillation process, a barrel to symbolise the maturation process, and a nosing glass in tribute to Loch Lomond Group's blending prowess.
Each Noble Rebel expression is distilled, matured and blended under the expert eye of Master Blender, Michael Henry, at Loch Lomond Distillery. Using a combination of traditional swan-neck, and its signature high and low-cut straight-neck pot stills, Loch Lomond Distillery has a whisky-making capability like no other. The straight-neck stills, which are entirely unique to the distillery, provide Michael with greater control over the distillation process, allowing him to carefully manipulate the flavour profile of each whisky. In crafting Noble Rebel, Michael is both the artist and curator, combining the noble art of whisky distillation and blending with a knack for rebellion.
Michael Henry, Master Blender at Loch Lomond Group, said:
"Noble Rebel is an exciting new addition to the growing Loch Lomond Group portfolio. At the heart of each expression is our shared passion for blending finely curated malts into a product of beauty. Bringing new ideas to old ways and deeply-rooted traditions, our drams are modern masterpieces that welcome newcomers with open arms, and delight old friends alike."
Each edition of Noble Rebel blended malt whisky is available from 16 February on the Noble Rebel website, RRSP £40 per 70cl bottle. Noble Rebel will also be available from 1 March 2023 at The Whisky Exchange.
Noble Rebel is part of the Loch Lomond Group, which also includes Glen Scotia, Littlemill and Loch Lomond Whiskies.
To discover more, visit: https://noblerebelmalts.com.
More Whisky News
Distillery of the Month: November 2023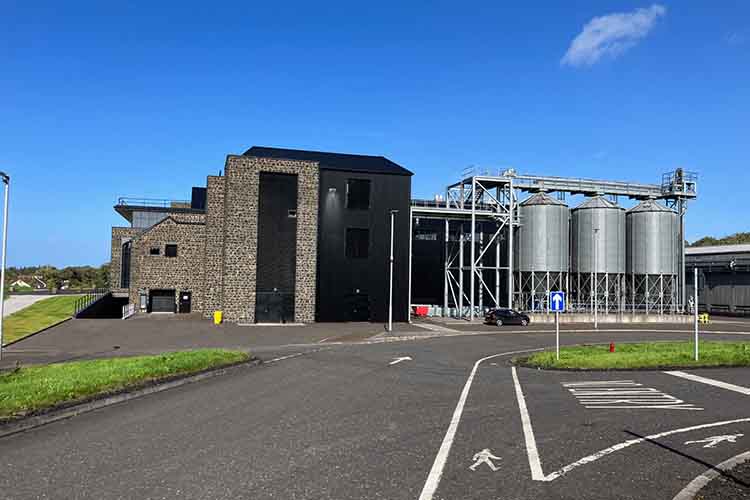 Planet Whiskies visited the new Bushmills Distillery in Northern Ireland on the 25th and 26th of September. Read our review of the experience of Bushmills and Northern Ireland at Planet Whiskies tour of Bushmills and Northern Ireland
You can also read the whole section about Bushmills Distillery at Bushmills Distillery Information on Planet Whiskies... So Bushmills is Planet Whiskies Distillery of the Month title for November 2023
Get Newsletter
Subscribe to our newsletter to get latest news, popular news and exclusive updates.