Littlemill Announces Exclusive New 'Vanguards Collection' and Unveils The First Expression 'Vanguards Chapter One'
Published Date: 26th September 2023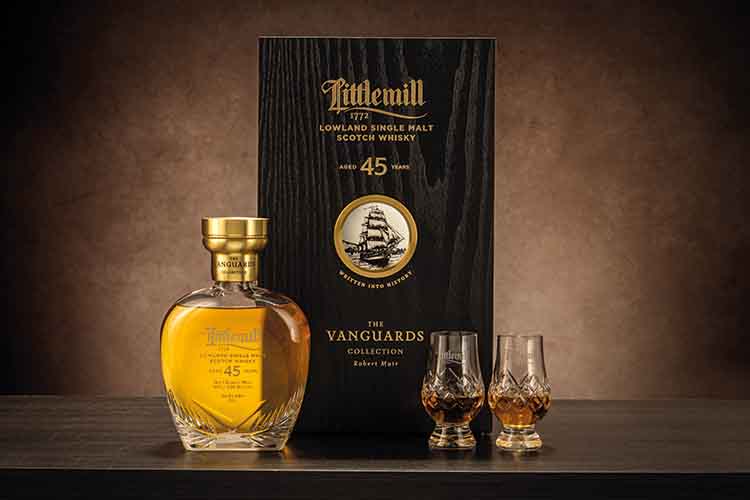 The Vanguards Collection will celebrate the pioneers behind Scotland's oldest licensed distillery
Chapter One, the first of four annual releases, is a remarkable 45-Year-Old single malt
Luxury packaging includes an original artwork from British artist, Vic Lee, reimagining the original license granted to Littlemill to produce whisky, marking the start of an incredible story in history
Scotland's oldest licensed distillery, Littlemill, has unveiled its latest annual release, The Vanguard Collection - Chapter One, an incredible 45-Year-Old whisky drawn from the oldest and rarest reserves of the extraordinary Lowland distillery, which fell into silence in 1994.

The release was distilled on the 11th of October 1977 at the original site in Bowling, West Dunbartonshire, using Littlemill's patented straight-neck copper pot hybrid stills, which were first introduced in the early 1900s, an innovation of their time then and today.

The liquid was stored in refill American Oak casks before a final five-year finish in a first-fill Oloroso Sherry Hogshead. The result is a wonderful single malt boasting honey, elderflower, and nutmeg on the nose, with a silk-like mouthfeel of melted brown sugar, vanilla, and fresh fruits, before a long finish full of citrus flavour and caramelised sugars.

This traditional choice of finishing wood, personally selected by Master Blender Michael Henry, is meticulously documented in the distillery's records and complements the delicate floral nature of this Lowland malt.

Bottled at cask strength of 50.5% ABV and natural colour, only 250 individually numbered bottles are available worldwide, priced at £12,500.

Vanguard Chapter One is the first of four new expressions in The Vanguard Collection, which will be released annually, each partnering with a global artist to pay homage to the trailblazers who shaped Littlemill's story by overturning traditions, innovating with technology and processes, and leaving an undeniable legacy.

The first expression is dedicated to Robert Muir who was granted the first license to 'retail beer, ale, and excisable liquors' from King Geoge III in 1773. It is potentially the first time whisky distilling was officiated and was certainly the beginning of a remarkable story in the world's whisky industry.

This moment will be remembered through a new collaboration with British artist, illustrator, and wordsmith, Vic Lee, who has been transcending the art world for the last ten years with his iconic and intricate approach to penmanship. Vic has worked with some of the UK's most loved and forward-thinking brands, including McLaren automotive, Nike, Atkin Guitars, Brompton Bikes, and The Tate Modern.

Using traditional screen printing, Vic has created 250 cotton paper artworks which reimagine the original license through contemporary illustrations including Littlemill's original stills and warehousing, and the trade ships on the River Clyde in Scotland, nodding to the bustling international exporting of the time.

Printed on beautiful off-white cotton paper, the bespoke artwork, hand finished in Indian grey ink for individuality, will be encased in a stunning handmade ash display cabinet, handcrafted by Littlemill's most trusted carpenters and woodworkers.

Inside is an exquisite handblown Glencairn crystal decanter with delicate cuts in the glass, inspired by a traditional writing quill which would have been used by Robert Muir to sign the original license. A glass portal in the cabinet door provides a window through time to Vic Lee's hand-finished artwork, each individually hand signed and numbered by Vic and Master Blender, Michael Henry

Each cabinet also houses a branded 50ml miniature and a hardback book of the Littlemill story, so the very few lucky custodians of this exceptional single malt can explore and enjoy Scotland's most fascinating whisky tale with an exquisite dram.

Founded in 1772 in Bowling, West Dunbartonshire, Littlemill was at the forefront of innovation for its time. It was lost to a fire in 2004 and since then, Master Blender, Michael Henry, has held guardianship of the last remaining rare casks, drawing on the limited reserves for the first Vanguard Collection release.

Michael Henry, Master Blender of Loch Lomond Group, said: "Littlemill's was Scotland's first licensed distillery, but the journey thereafter is what makes it remarkable. It's legacy is defined by unsung heroes and quiet trailblazers at its helm.

"These vanguards of their time were overturning traditions in production, innovating with still designs and craftsmanship, and quietly leaving their fingerprints on Littlemill and the wider whisky industry. Much like Littlemill itself, these individuals passed into history before their contribution could ever be applauded, but their influence lives on in these last precious casks, which I am lucky enough to have under my personal care and custodianship.

"This creation of the first in The Vanguard Collection has been a fascinating process, as we have gone back to explore again the wonderful history of this intriguing whisky distillery.

Robert Muir is a pioneer of his time, and this latest release is a celebration of that. "Quite unlike anything else, Littlemill is a beautiful summer whisky, with characteristics of gentle vanilla and floral notes on the nose, with the sweetness of honey and creamy fudge, accompanied on the palate by classic Lowland fresh fruits. It's a unique and special character, which we work hard to preserve without compromise."

Vic Lee, artist, said: "Working closely with Michael and the team, we sought to create something bespoke and unique that could accompany each exclusive bottle. The artwork had to respect the original license from 1773, and through a detailed and time-consuming approach, I drew upon historic penmanship and printing methods, while applying my own contemporary feel.

"There is so much beauty in works and letters; they can incite so much emotion and understanding of a period of time, which was exactly what was required for this remarkable Littlemill launch."

Vanguard Chapter One will be available for purchase via enquiry through the Littlemill website and other specialised retailers. For further information visit www.littlemilldistillery.com.
Tasting Notes: Littlemill's Vanguard Chapter One
Nose: Honey, elderflower, pineapple, kiwi, roasted hazelnuts, cinnamon and nutmeg.
Palate: Silk like mouthfeel, melted brown sugar, vanilla, creme brulee, crisp apple, ripe pear, freshly squeezed lime juice, dried fruit - sultana and citrus peel.
Finish: Long with notes of grilled grapefruit and sweet caramelised sugars, all balanced with sharp citrus.
More Whisky News