Latest Whisky News - Glengoyne Distillery - Merchants make their Choice - 7th December, 2009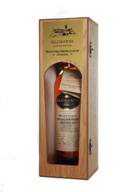 Dumgoyne, 7 December 2009: Award-winning Glengoyne Distillery has challenged some of Scotland's best known and highly respected independent whisky retailers to select a rare limited edition single cask from the Glengoyne warehouses that they would be proud to name The Scottish Merchants' Choice
Taking place in Glengoyne distillery's state-of-the-art Blending Room, the group of six whisky connoisseurs nosed, sampled and debated a wide range of Glengoyne's finest malts before collectively selecting a 12 Years Old, Sherry HHD cask 57.8% vol. to have the honorary title of The Scottish Merchants' Choice.
Not only tasked with selecting this exceptional single cask, the merchants' had to unanimously agree on all of the Merchants' Choice values, from the bottle, packaging and label design and wording, to its name and tasting notes.
With a great first impression of butterscotch, cloves, leather, spice and Seville oranges, the nose of the Scottish Merchants' Choice is described as fabulously balanced with an underlay of chocolate. An elegantly rich and fresh palate with sundried fruits, pears and a hint of pepper that plays nicely to the finish.
Iain Weir, Marketing Director for Ian Macleod Distillers, brand owners of Glengoyne commented: "These fine gentlemen are the experts and the critics. It is their job and passion to know and understand Scottish malt whisky better than anyone else. We are delighted to have been able to give them the opportunity to showcase their expertise and skill in choosing the perfect dram.
"We have already had enquires from some of our English independent whisky retailers as to when they will get the chance to make their Merchants' Choice. I think a bit of healthy North-South rivalry has some great potential."
Just 284 bottles of this limited edition bottling are now available (just in time for Christmas), from the six selection panel whisky specialists (see below), with an RRP of £99.
SINGLE CASK

The Scottish Merchants' Choice 1996 (12 Years Old)

Description

Nose: Great first impression, butterscotch, cloves, leather, spice, Seville oranges with an underlay of chocolate. Fabulous balance

Palate: Elegantly rich with sundried fruits, pears, hint of pepper, fresh

Finish: Plays nicely as it finishes

Wood Type

Sherry HHD

Cask No.

3447

No. of Bottles

284

Strength

57.8% 70cl

Distillation Date

16/12/1996

Bottling Date

November 2009

Approved By

Vince Fusaro, Brian Gibson, Richard Joynson, Edward Robertson, Robin Russell and Keir Sword.
For further information contact Glengoyne Distillery on 01360 550 254 or visit www.glengoyne.com
For UK distribution of Glengoyne contact: Harvey-Miller Wine & Spirit Agencies www.hmwsa.com
<< View the range of Glengoyne Single Malts
<< Read more about the Glengoyne Distilery
<< Read about Planet Whiskies tour of the Glengoyne Distillery
<< Back to all the latest whisky news brought to you by Planet Whiskies