<< View the range of Glengoyne Single Malts
Glengoyne Live Cask Event A Dram Good Success - Watch Live Video of Event - 12th November, 2013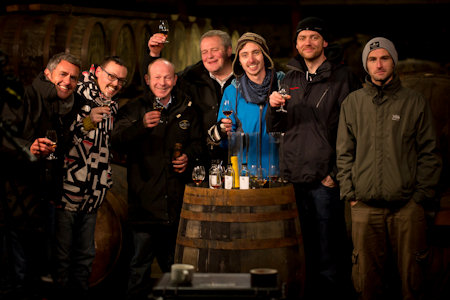 12 November 2013: Last Thursday (7th November, 7.00pm), there was a momentous event for Glengoyne Distillery, the home of Glengoyne Highland Single Malt Scotch Whisky, as it hosted its first ever live online cask tasting.
Members of the Glengoyne Family signed up to take part in this unique tasting – the first of its kind by a single malt brand – where three specially chosen casks were opened, discussed and tasted by Stuart Hendry, Brand Ambassador and Robbie Hughes, Glengoyne Distillery Manager, live online.
Filmed in Glengoyne Distillery's warehouse number eight and broadcast by satellite, over 400 Glengoyne fans tuned in from countries around the world including Hawaii, Germany, South Africa and Sweden. Viewers then had the opportunity to vote online for their favourite cask to be bottled. The winning cask was then available for advance purchase online from 8.00pm.
The three casks that were sampled ranged from 25-27 years old. The winning cask was Cask B with 152 votes - 26 years old, distilled on the 19 May 1987, a first fill European oak sherry cask at 54.6% abv. A bright gold malt with a strong scent of brambles, a sweet blast of honey on the tongue with eucalyptus and oily lemon.
Glengoyne Live Casks - Robbie Hughes Comments
Robbie Hughes commented: "To take three Glengoyne casks and open them for the first time since being filled was immensely exciting. Each cask the same but all have been on a different journey, leading to a distinctively individual malt inside. To be able to share this with Glengoyne fans is incredible and we are thrilled with the chosen bottle, cask B - a perfect addition to the Glengoyne collection."
Cask C was a close second in the vote - a 27 year old malt with an amber redness, a syrupy nose and a rich, peppery taste. It was the highest abv at 53.6%.
Cask A was a 25 year old malt, dark and rich in colour with a sweet toffee nose and a spicy fruity taste. Its abv was 52.6%.
Iain Weir, Marketing Director for Ian Macleod Distillers (owners of Glengoyne), said: "The live cask tasting was a great success and we are delighted with the response from the Glengoyne fans who participated. We believe this is a first for the industry - never before has a single malt whisky brand invited their members to watch an online tasting and vote for their favourite cask in real-time and it's something we look forward to doing again in the future."
The team behind the event included Edinburgh based digital agency, Weather Digital who worked with web streaming specialists, Glocast and presenter, Stephen Jardine from Taste Communications.
Below is a video from YouTube that you can watch the 'live' Glengoyne tasting.
Only 339 bottles will be available to purchase of this limited edition malt from www.glengoyne.com, with an RRP of £350.
Glengoyne Distillery - highly regarded as Scotland's most beautiful distillery is situated in Dumgoyne near Loch Lomond. Glengoyne runs its stills slower than any other distillery, proof that Glengoyne genuinely is "Worth the Wait".
<< View the range of Glengoyne Single Malts
<< Back to all the latest whisky news brought to you by Planet Whiskies
Distillery of the Month: November 2023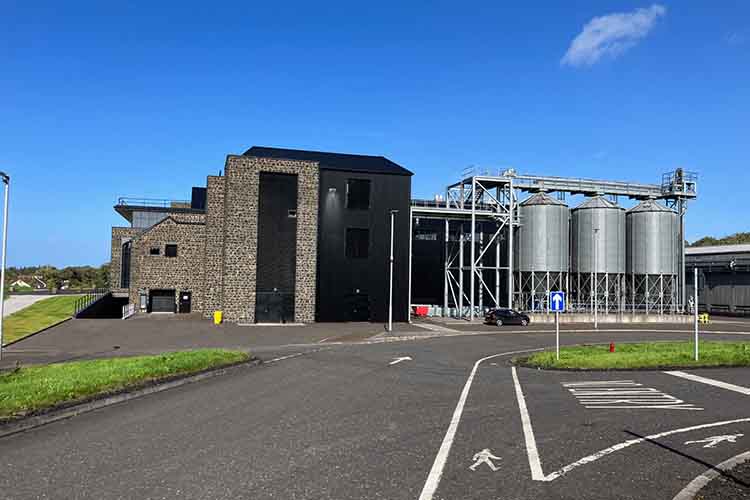 Planet Whiskies visited the new Bushmills Distillery in Northern Ireland on the 25th and 26th of September. Read our review of the experience of Bushmills and Northern Ireland at Planet Whiskies tour of Bushmills and Northern Ireland
You can also read the whole section about Bushmills Distillery at Bushmills Distillery Information on Planet Whiskies... So Bushmills is Planet Whiskies Distillery of the Month title for November 2023
Get Newsletter
Subscribe to our newsletter to get latest news, popular news and exclusive updates.