Latest Whisky News - Glen Rossie - 200-Yr-Old Whisky Gets Rebrand & Rock Star Chairman - 27th April, 2010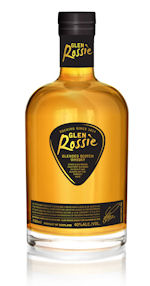 Sales & Distribution Channels: 'Talks Underway' - One of the oldest whisky brands in the world, Glen Rossie, is being given a fresh rebrand with a new label, new bottle and a new chairman – Francis Rossi, lead singer and guitarist in legendary rock band Status Quo.
What began as a tipple on a tour bus ten years ago has matured into a Chairmanship for Rossi, who has taken a significant minority stake in the 196-year-old brand with The Brand Cellar, which acquired Glen Rossie from First Quench.
It is understood that The Brand Cellar is in talks with a number of interested parties regarding sales and distribution channels for the whisky – both via retailers and direct sales – although a decision on the final selected partners has yet to be agreed.
Dating back to 1814, the brand is being re-launched with a plectrum-inspired label and logo in homage to its new guitar-playing Chairman. Francis Rossi also features heavily on the new website, www.glenrossiewhisky.com, where 30 first-run, limited edition, signed Glen Rossie bottles are being given away.
David Birchall, Chief Executive Officer of The Brand Cellar, said: "Glen Rossie has a tremendous whisky heritage and as we approach its 200th anniversary in 2014 we have the ambition to turn it into a global brand.
"We signed a deal with Francis this year in Melbourne where he was touring and as Chairman – and as 'front man' for the Glen Rossie brand – we believe he can help us reinvigorate sales not just in the UK but, as someone who has sold 118 million records worldwide, overseas too.
"We are exploring a number of opportunities to support our sales and distribution strategy and intend to announce those plans soon after the conclusion of our discussions.
"From a marketing perspective, we have some exciting and innovative ideas for the brand which we're currently planning. For example, to mark the initial unveiling of the new bottle and identity we're running an online competition to win one of 30 first-run, limited edition, signed bottles on our website at www.glenrossiewhisky.com."
*To win one of 30 first-run, limited edition, signed Glen Rossie bottles visit www.glenrossiewhisky.com
<< Back to all the latest new brought to you by Planet Whiskies