Rare Fettercairn 46 Years A Celebration Of Ageing Excellence. Showcases the distillery's rare maturing stock
Award-winning, exceptionally rare aged expression from a defining year 
Published Date: 9th September 2020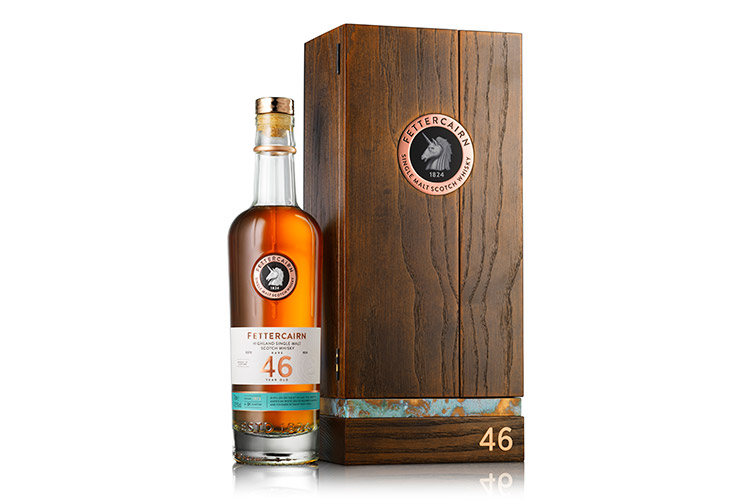 Fettercairn Distillery has unveiled a rare, exquisite addition to its range of Highland single malt whiskies. The Fettercairn 46 Years Old showcases the distillery's rare maturing stock and its skill in creating the very best in older age expressions; such excellence now endorsed by the International Spirits Challenge (ISC) with its award of Double Gold in the 2020 competition.
Distilled on 8th May 1973, the initial release of 46 Years Old tells a story of an expertly nurtured aged single malt, but more than that, it honours a definitive moment in time. This was a year of great historical change; of major innovation and technological advancement and of profound cultural evolution. From the end of the Vietnam War and the Watergate scandal; to the first handheld mobile phone call and the introduction of the ATM; to space travel and legendary music and movie releases. Defining, and game changing, too for the innovators of Fettercairn as this was the year the distillery joined the Whyte and Mackay family; a true milestone in the story of this hidden gem.
Beginning with the optimal maturation conditions, the spirit has slumbered in the highest quality casks under the watchful eye of distillery manager John Livie initially in 1973, to Stewart Walker today.
Shaped by a lengthy union with American white oak ex-Bourbon barrels, this single malt went onto spend four years in 40-years-old Tawny Port Pipes, themselves the epitome of scarcity. This creative maturation gave the classic tropical character a greater depth of sweetness, marrying perfectly with the distinctive flavours created from the unique cooling ring, which defines Fettercairn's pure spirit.
Bottled at 42.5% ABV, Fettercairn 46 Years Old is naturally cherry wood in colour with a nose of over-ripe bananas, toasted bread, citrus fruit and plum, giving way to raisin, bitter chocolate, fig and spice. The palate is defined by spiced pear, coffee, caramelised orange and liquorice.; leading to black cherries and treacle with a finish of plum, demerara sugar and chocolate.
Kirsteen Beeston, Head of International Malts at Whyte and Mackay, said, "This is a truly scarce and special single malt; a celebration of the years of passion and commitment which are inherent to the way Fettercairn Distillery has always been.
We recognise that having such incredible treasures in our warehouses means we need to ensure we always respect when and how we bring these amazing aged whiskies to single malt drinkers, and this is something we will always honour.
With a firm commitment to exceptional ageing quality, Fettercairn Distillery has consistently demonstrated an unwavering ability to mature and nurture spirit to such high quality and impressive ages. We're delighted this release has been recognised with the Double Gold award at ISC 2020 - it is testament to how truly exquisite this bottling is."
With only 55 bottles initially released, Fettercairn 46 Years Old is offered at 42.5% ABV, with no added colour and is non-chill filtered. The new expression will be available from selected global specialist retailers in the UK, Europe and Asia at an RSP of £8,500.
More Whisky News