Chivas Brothers Whiskies Scoop Top Awards At The International Wine And Spirit Competition
Published Date: 2nd August 2011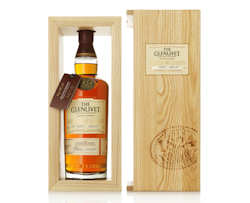 Chivas Brothers, the Scotch whisky and premium gin business of Pernod Ricard, is celebrating after winning a covetable Trophy, an impressive five Gold 'Best in Class' medals and two Gold awards at this year's prestigious International Wine and Spirit Competition (IWSC).
The Glenlivet, the world's No 2 single malt Scotch whisky, continued its legacy as the original and inspiring single malt by claiming the IWSC Cask Strength Scotch Whisky Trophy for The Glenlivet Founders Reserve. Launched to mark the expansion of The Glenlivet distillery in 2010, the bottling pays tribute to the whisky's founder George Smith and reflects the year of its foundation with the limited release of just 1,824 bottles.
Further triumph for The Glenlivet came when Gold 'Best in Class' medals were awarded to The Glenlivet 18 Year Old and The Glenlivet 21 Year Old Archive. The brand also picked up a Gold medal for its bold and innovative expression, The Glenlivet Nádurra Cask Strength 16 Year Old.
Chivas Brothers' extensive blended Scotch whisky portfolio also scooped 'Best in Class' Golds for Ballantine's 17 Year Old and Royal Salute 21 Year Old.
Aberlour, a leading single malt Scotch whisky in France, scooped two of the top accolades in the competition, including a Gold 'Best in Class' for the Aberlour Double Cask Matured 16 Year Old and Gold for the 18 Year Old expression.
Christian Porta, Chairman and CEO of Chivas Brothers, said: "We are delighted with these exceptional IWSC results, which are testament to the quality of our comprehensive portfolio of Scotch whiskies. Recognition from the IWSC's expert panel of judges not only reinforces our position as an authority within the industry, it also highlights the craftsmanship and dedication of our master distillers and blenders."
The IWSC was founded in 1969 to promote and reward the quality and excellence of the world's best wines, spirits and liqueurs. Winners are selected following a rigorous two-stage judging process of professional blind tasting and a detailed technical analysis. The competition is backed by a group of vice-presidents made up of the most influential men and women in the trade and a judging panel of industry experts. This year's competition received entries from almost 80 countries.
<< Read more about Chivas Brothers and Pernod Ricard
<< View Blended Whiskies from Chivas Regal
<< Back to all the latest whisky news brought to you by Planet Whiskies