Chivas Brothers Named 2011 Distiller Of The Year At International Spirits Challenge - 11th October, 2011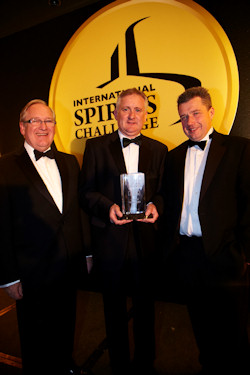 Chivas Brothers, the Scotch whisky and premium gin business of Pernod Ricard, was awarded the much-coveted Distiller of the Year title at the International Spirits Challenge (ISC) official awards ceremony held in London last night.
The prestigious Distiller of the Year award recognises consistent excellence and quality across a portfolio and completed a hugely successful night for Chivas Brothers, who also collected Gold medals for The Glenlivet 18 Year Old, Aberlour 16 Year Old Double Cask Matured and Strathisla 12 Year Old single malts.
Christian Porta, Chairman and Chief Executive of Chivas Brothers, comments: "We are delighted to have been so successful at this year's ISC. It is a fantastic accolade to be named Distiller of the Year, and is the ultimate third party endorsement of the high quality of our Scotch whisky and gin portfolio. This prestigious award is a tribute to the craftsmanship and dedication of our master distillers and blenders."
The International Spirits Challenge is one of the most authoritative, respected and influential spirits competitions in the world. Now in its 16th year, the competition is founded on a rigorous and independent judging process, which serves to encourage the high calibre of spirits entered into the competition each year. Receiving more than 1,000 entries from nearly 70 countries worldwide, the ISC is a truly global competition.
<<To see the history and buy whiskies from Chivas Brothers
<< Back to all the latest whisky news brought to you by Planet Whiskies