Chapel Gate Whiskey: Ireland's First Modern Whiskey Bonder Launches First Release In The UK
JJ Corry 'The Gael' Irish Blended Whiskey Now Available in the UK.
Published Date: 23rd October 2017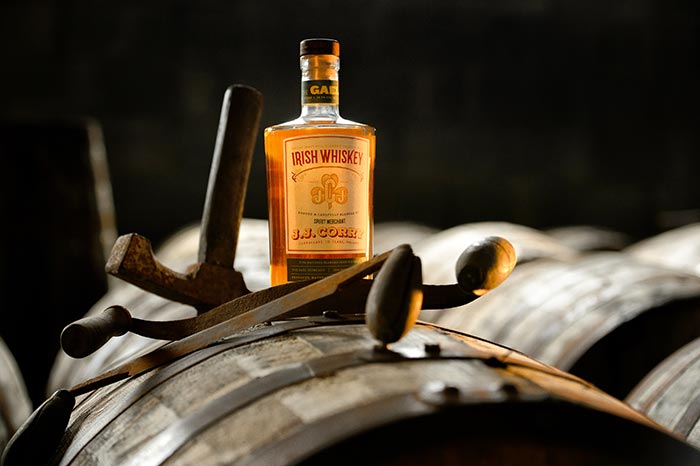 Cooraclare, Co. Clare, Ireland (October 17 2017) - The Chapel Gate Irish Whiskey Co., Ireland's only whiskey bonder, has announced the launch of its first whiskey, J.J. Corry, in the U.K. market.
J.J. Corry 'The Gael' is made with 5% 26-year-old single malt, 27.5% 11-year-old single malt, 27.5% 15-year-old single malt and the remaining 40% is 7-year-old single grain whiskey. The whiskey is available in 500ml for £60 and 750ml for £80. It is bottled at 46% ABV, is non-chill filtered and has no artificial colour added. The first batch of 7,500 bottles is available on www.WhiskeyExchange.com and www.CelticWhiskeyShop.com.
The Chapel Gate Irish Whiskey Co. was founded by Louise McGuane in 2015 and has resurrected the lost art of Irish whiskey bonding under the JJ Corry brand name. The company is maturing whiskey in a purpose built bonded rackhouse on the McGuane family farm in Cooraclare, County Clare, Ireland.
Irish Whiskey Bonding is the practice of sourcing whiskey from third party distilleries, maturing it onsite until it is ready and then finishing or blending liquids to create a unique stand-alone whiskey. Bonding was a once common way of producing whiskey in Ireland and bonders were often publicans and grocers in local towns creating whiskey for their local clientele. The practice died out in the early 20th Century when the Irish whiskey industry collapsed. Instead of selling to bonders, the few remaining distilleries in Ireland chose to control their route to market and cut off supply to the local Bonders.
Founder Louise McGuane commented, "Bonding Irish whiskey was a lost art and business model which we have brought back to life. We are the first whiskey bonder in Ireland in 50 years and are proud to have brought this way of making Irish Whiskey back."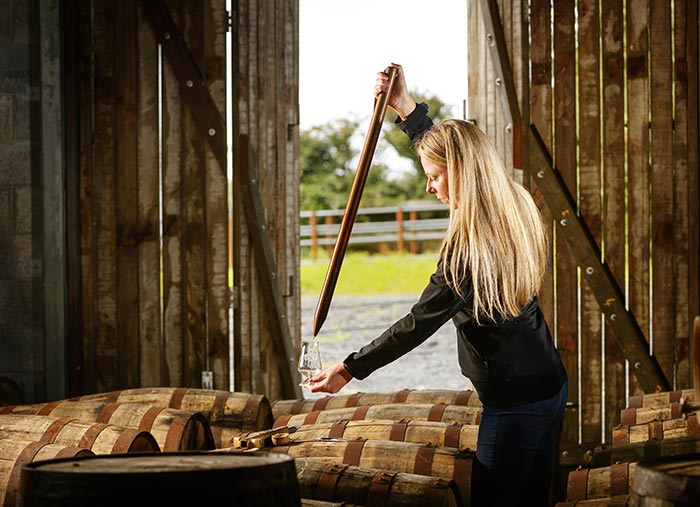 The company is also the only all-female Irish Whiskey Company in the world. "The Irish whiskey industry historically has been male dominated," commented McGuane. "The gender of people who now drink whiskey has broadened, but the gender of those that produce it has not kept pace with this change. Gender in the industry should not matter, but I have found that to some extent it still does. In reality the only significant thing about us being an all-female whiskey company is there is no ambiguity as to what we are capable of achieving together. Women helping women is a powerful thing and in spite of all the progress made in the past few decades we still need to ensure our mutual success."
As the company waits for their own Irish whiskey casks to come of age, they have sourced mature Irish whiskey from existing stocks in Ireland. With these casks they have created a series of unique and complex blends to build a future house style and flavour profile. J.J. Corry 'The Gael' is a clearly definable Irish whiskey with those fruit forward flavours that whiskey lovers look for in Irish whiskey.
McGuane added, "Our farm has its own coastal micro climate, we rack our casks in the traditional style and our purpose built rackhouse has a clay floor for optimum humidity conditions.  We are meticulous about the quality of new make whiskey spirit we buy and I personally source all of our casks. We have excellent quality spirit going into Grade A casks and those casks are maturing in a unique microclimate on the Wild Atlantic Way. We feel it is important to be 100% transparent about what we are doing. J.J. Corry 'The Gael' is the beginning for us, a tribute to what has gone before us and a taste of what is to come."
The Gael is named after a bicycle that whiskey bonder J.J. Corry invented in the 1890s. J.J. Corry was born in the parish of Cooraclare, where the business is based, and he bonded and blended whiskey in his shop and pub at 63 Henry Street, Kilrush from the 1890's until his death in 1932. 
J.J. Corry 'The Gael' has a classic Irish whiskey profile with full white stone fruit flavours, notes of lime with a hint of pink peppercorns and a dried grapefruit and apple finish.
For more information visit http://www.chapelgatewhiskey.com/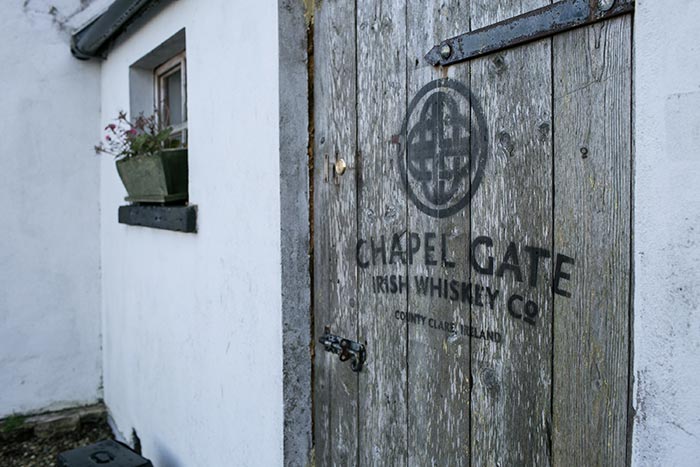 << Read more about Iriish Whiskey
<< Buy Irish Pot Still Whiskey
<< Buy Irish Single Malt Whiskey
<< Back to all the latest whisky news brought to you by Planet Whiskies