Bunnahabhain Unveils Three Limited Edition Releases In Celebration Of Fèis Ìle 2022: Revealing the first three of its special limited editions
Published Date: 1st May 2022
Islay distillery, Bunnahabhain, has unveiled its annual limited-edition bottlings for Fèis Ìle 2022 - Abhainn Araig, 1998 Calvados Cask Finish and 2004 Moine Tokaji Cask Finish.

Bunnahabhain Day at Fèis Ìle will be celebrated in whisky markets across the world, through a series of online and in-person events at the distillery on 3 June 2022.
Islay's most remote distillery has announced an exciting Fèis Ìle 2022 programme as it opens its distillery doors to festival fans for the first time since 2019 as well as revealing the first three of its special limited editions.
The Bunnahahbain Day events (June 3) will be celebrated around the world and have been specially curated by the team at the distillery, led by Distillery Manager Andrew Brown, alongside Master Blender Julieann Fernandez and Master Distiller Brendan McCarron. This trio will all be on hand to guide whisky lovers through the distillery's diverse portfolio of internationally sought-after expressions through masterclasses, warehouse tastings and distillery tours as well as a Facebook live tasting.
The distillery has also released a collection of limited-edition expressions in honour of Fèis Ìle, including: Abhainn Araig, a non-age statement marriage of Bunnahabhain spirit, 2004 Moine Tokaji and 1998 French Calvados cask finish. For those participating in Bunnahabhain Day, the team will also have a few surprises in store, with exclusive details on another new limited-edition product to be revealed live during the Masterclass tasting.
Bottled at 50.8% abv, Abhainn Araig takes its name from the Araig River on Islay, a vital life source for the distillery. It is a marriage of Bunnahabhain spirit that has been matured in ex-Pedro Ximenez sherry, in a selection of octave casks. The bottling has a velvety rich texture, with notes of chocolate, powdered ginger and cigar box on the nose and dark toffee and spicy cinnamon on the palate. This will be available in markets across the globe.
A special edition 1998 Cask Finish has been bottled in celebration of Feis at 49.7% abv. Finished in Calvados brandy casks, this bottle has slumbered peacefully for two decades on Bunnahabhain's shores before spending the last two years of its life in casks that once held the finest French Calvados. Tawny in colour, this dram contains notes of barley sugar, pear drops and toffee apples on the nose, and green apples, pear candies and toffee on the palate with a lingering floral finish. This will also be available in markets across the globe.
Available exclusively at the Bunnahabhain distillery and on Bunnahabhain.com, the Moine Tokaji finish is bottled at 52.5% abv, and is produced using Bunnahabhain Moine, meaning 'peated' in Scots Gaelic. The 2004 Moine Tokaji was finished in casks which once held the finest Hungarian Tokaji white wine. Caramel in colour with touches of white sugar, sandalwood and citrus on the nose, the palate features smoky vanilla pods, white chocolate, lemon zest and pear, with the sweetness of the Tokaji drops leaving notes of freshly sawn-oak wood.
Bunnahabhain Day 2022 marks Master Blender Julieann Fernandez' first in-person Fèis Ìle since taking on the role.
Julieann Fernandez, Master Blender, comments:
"It is beyond exciting to be part of the team hosting this year's Bunnahabhain Day for Fèis Ìle 2022. After two years of virtual events, we are thrilled to be opening the distillery doors to welcome whisky lovers from around the globe. It is a chance to celebrate our diverse portfolio and give visitors a sneak peek into life on the iconic Islay.
"The Fèis Ìle 2022 collection reflects all of the incredible work that goes on each day at the distillery, and I am so proud to be involved in the production of these whiskies. Keep your eyes peeled for a few other surprises in the pipeline!"
Fèis Ìle runs between Friday 27 May and Saturday 4 June, with Bunnahabhain Day on the Friday 3 June. Fèis Ile bottlings and tasting kits are available from www.bunnahabhain.com and all of the distillery's events will be broadcast live on Facebook.
To purchase or to find out further details please visit Bunnahabhain website
More Whisky News
Distillery of the Month: November 2023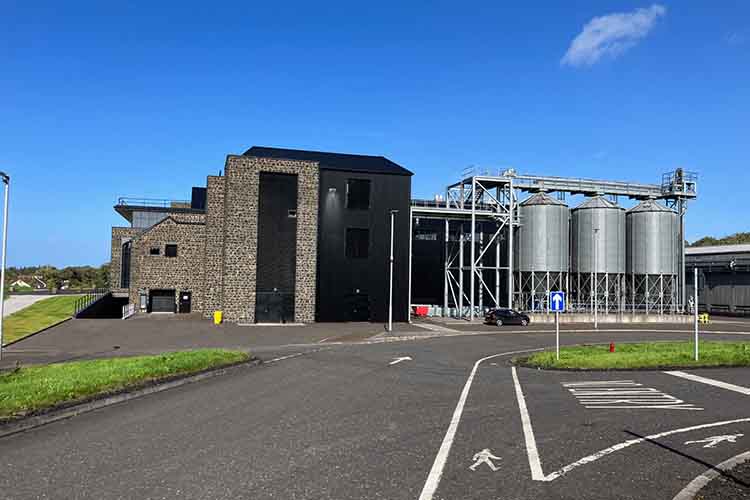 Planet Whiskies visited the new Bushmills Distillery in Northern Ireland on the 25th and 26th of September. Read our review of the experience of Bushmills and Northern Ireland at Planet Whiskies tour of Bushmills and Northern Ireland
You can also read the whole section about Bushmills Distillery at Bushmills Distillery Information on Planet Whiskies... So Bushmills is Planet Whiskies Distillery of the Month title for November 2023
Get Newsletter
Subscribe to our newsletter to get latest news, popular news and exclusive updates.