Whisky 'Sails' Soar In San Francisco - 12th April, 2012
Edinburgh Inspiring Capital Clipper crew meet Diageo to toast record-breaking export figures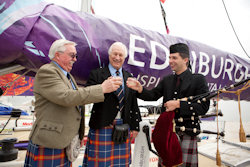 Edinburgh's 12 strong Clipper crew, currently taking part in the round the world yacht race, today caught up with DIAGEO, the multi-million dollar drinks company, following its arrival in Oakland, San Francisco. Steve Beal, one of the world's fifteen Masters of Whisky and Sr. Master of Whisky for DIAGEO Spirits on the US West Coast teamed up with the crew from the Edinburgh Inspiring Capital yacht for a whisky tasting to celebrate record breaking new export figures.
The crew of Edinburgh Inspiring Capital arrived into San Francisco on Tuesday 1 April following an arduous 5,680 mile sail from China, which saw them complete Leg 6 of the Clipper 11-12 Round the World Yacht Race. They brought a distinctly Scottish message, wearing kilts provided by Scottish company, Kinloch Anderson.
The crew celebrated the fact that Scotch Whisky exports continued to grow last year hitting a record £4.2billion in shipment value, up 23% on 2010 according to figures unveiled today by the Scotch Whisky Association. Rising demand in both emerging and more mature markets has resulted in export values increasing by an average of 10% a year over the last five years. It now contributes £134 per second to the UK balance of trade.
Exports to the USA, the biggest market by value, broke the £600 million barrier for the first time in 2011 to reach £654.9m, which will contribute directly to the Scottish economy. To meet this increased demand, distillers are investing record amounts in production capacity across Scotland. In the last four years the Scotch Whisky industry has invested over £1bn in new facilities.
The good ship Edinburgh Inspiring Capital continues her battle to move up the field in the Clipper 11-12 Round the World Race, and San Francisco will be the crew's first stop over in America on the 40,000 mile race before she departs for New York.
Leader of City of Edinburgh Council, Cllr Jenny Dawe, said; "More than 10,000 people across Scotland are employed in the Scotch whisky industry, so knowing that companies like DIAGEO, whose Scottish headquarters are based in Edinburgh, are in investing in Scotland to ensure it can seize these commercial overseas opportunities is fantastic. Edinburgh Inspiring Capital will be a worthy ambassador when it sails into San Francisco flying the flag for Edinburgh and Scotland."
Gavin Hewitt, chief executive of the Scotch Whisky Association, said: "The figure for last year shows that the US continues to be one of our most important markets. Demand for Scotch Whisky reached a record high last year as more consumers develop a taste for the quality product."
Steve Beal, Sr. Master of Whisky for DIAGEO Spirits on the US West Coast and named "Keeper of the Quaich" an honour bestowed only upon the elite of the Scotch Whisky industry, said: "Affluent young professionals in fast growing economies are increasingly developing a taste for
Scotch Whisky, and who could blame them! These amazing new export records demonstrate that people around the world are appreciating the high quality and delicious whisky that Scotland's has to offer and show how Scotch Whisky has been a trailblazer across the globe.
He added; "We're very excited about welcoming the Edinburgh Inspiring Capital crew to Oakland. The yacht's visit will help us to showcase the very best of Scotland's capital and Scotch Whisky to the people of San Francisco."
This is the second time that Edinburgh has taken part in the Clipper Race. Their inaugural entry to the race in 2009 brought worldwide media coverage worth more than £10 million to the city. Throughout the race, the city's official promotional body, Marketing Edinburgh, has delivered an international campaign to ensure maximum exposure for Edinburgh in select ports.
"The Clipper Race offers a tremendous opportunity to engage with a worldwide audience," said Lucy Bird, CEO of Marketing Edinburgh. "Strengthening Edinburgh's ties with global brands like DIAGEO throw the spotlight on Edinburgh and Scotland's attractiveness as a place for international trade and business.
"It's hugely important for us to promote our capital city in priority markets like the USA. I'm sure I speak on behalf of all the crew when I say we're delighted to be celebrating such amazing export figures for Scotland here in San Francisco."
The race finish is scheduled for 12th July 2012 in Southampton, UK. During their time at sea, the Edinburgh Inspiring Capital crew also hope to raise £40,000 for Ocean Youth Trust Scotland, Edinburgh Inspiring Capital's nominated charity.
<< Back to all the latest whisky news brought to you by Planet Whiskies