Irish Distillers Sweeps the Board at Whisky Awards - 25th March, 2013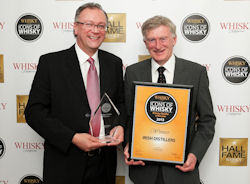 St. Patrick's Day may be over for another year but Irish Distillers Pernod Ricard, maker of the world's No.1 Irish whiskey, Jameson, is continuing its celebrations having been named Whisky Distiller of the Year at the Icons of Whisky Awards - Global 2013, for the second year running.
Further success followed as Redbreast 12 Cask Strength scooped the Best Irish Pot Still award.
The awards underline an impressive year for Irish Distillers, with sales of its flagship whiskey Jameson reaching four million global cases. Other recent highlights include the successful launch of Yellow Spot into the Single Pot Still range, as well as the launch of the coveted Midleton Single Cask Releases in February this year.
Peter Morehead, Production Director for Irish Distillers Pernod Ricard, says: "As one of the most respected whisky awards in the world, we are incredibly proud to be recognised once again by the Icons of Whisky Awards. We have been vocal about our ambitions for the Irish Whiskey category over the next 10 years as we aim to increase global awareness and appreciation for the quality of Irish whiskey, so these awards are greatly appreciated by all the team as the ultimate recognition of our ambition to grow the popularity of Irish Whiskey around the world."
"It's a momentous time in the history of Irish Distillers as we say goodbye to our legendary Master Distiller Barry Crockett after 47 years at the Midleton Distillery, so we would like to thank him for his immense contribution to the company and we shall look forward to continued success in the future as Brian Nation takes the reins."
Last week's accolades follow a host of recent award successes for Irish Distillers Pernod Ricard, including Whisky Advocate awarding the company Distiller of the Year and its single pot still whiskey, Yellow Spot revealed as its 'Irish Whiskey of the Year'. Irish Distillers also won a trophy at The Spirits Masters in November 2012.
<< Back to all the latest whisky news brought to you by Planet Whiskies