Information relating to the Hopscotch Festival - November 16-22, 2009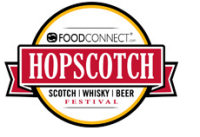 On this page is reference to the all products that are at the Hopscotch Festival. This has been supplied the Crossfire Entertainment and if you would like to know any more information relating to this excellent festival please browse to their website.
Foodconnect.com's Hopscotch Festival - 13th Annual
November 16-22, 2009 - Various Locations
Grand Tasting Hall: Nov 19& 20, 2009 - Rocky Mountaineer Station
There are now over 70 Exhibitors with over more than 200 different products on offer.
www.hopscotchfestival.com
Seminar Speakers

Day 1 - Thursday November 19, 2009
J Wheelock bio 6:20pm - 6:45pm
Alistair Walker bio 6:57pm - 7:23pm
Michael Nicolson bio 7:35pm - 8:00pm
Dan Tullio/Tish Harkus bio 8:11pm - 8:36pm
Jamie MacKenzie bio 8:47pm - 9:14pm
Chase Stamp bio 9:25pm - 10:00pm


Day 2 - Friday November 20, 2009
Chase Stamp bio 6:20pm - 6:45pm
Dan Tullio/Tish Harkus bio 6:57pm - 7:23pm
J Wheelock bio 7:35pm - 8:00pm
Jamie MacKenzie bio 8:11pm - 8:36pm
Alistair Walker bio 8:47pm - 9:14pm
Michael Nicolson bio 9:25pm - 10:00pm
Below is the product list is confirmed as of October 1st, 2009. Product list may change before the dates of festival.
Beer/Whisky
Although the beer and whisky brands are sampled in different areas, they share the same heritage within the festival. They have both been there since day one, hence the name, HOP(S)COTCH. There are more whisky and beer varieties than ever before in this 13th year of this festival. Taste and learn about so many of the new flavours/types while enjoying some of your old favourites. Please go to www.hopscotchfestival.com for full product tasting notes. Descriptions, and token prices, of the following products.
Amrut Distillery - Amrut Indian Single Malt, Amrut Indian Single Malt Cask Strength, Amrut Indian Peated Single Malt Cask Strength, Amrut Indian Peated Single Malt
Arran/Cooley/Penderyn - The Tyrconnell - Single Malt Irish Whisky, Connemara - Peated Single Malt Irish Whiskey, Isle of Arran - Robert Burns World Federation Arran Single Island Malt Scotch, Isle of Arran - The Arran Malt - 10 Year Old Single Malt Scotch, Isle of Arran - The Arran Malt - Sherry Single Cask Finish Scotch, Isle of Arran – Arran Gold Cream Liqeur, Penderyn - Single Malt Welsh Whisky
Bacardi Canada Inc. - Dewar's White Label, Dewar's 12 Year Old, Drambuie
BenRiach/GlenDronach - BenRiach Curiositas 10YO Single Malt Scotch Whisky, BenRiach 15YO Tawny Port Finish Single Malt Scotch Whisky, BenRiach 16YO Single Malt Scotch Whisky, GlenDronach 12YO Single Malt Scotch Whisky, GlenDronach 18YO Single Malt Scotch Whisky
Beverage Concepts - Asahi, Asahi Black, Coopers, Lindeman's Framboise, Peche, & Cherry, Lindeman's Pomme - Apple Lambic, Tin Whistle Chocolate Cherry Porter, Samuel Smith Oatmeal Stout, Samuel Smith IPA, Samuel Smith Imperial Stout
Bruichladdich Distillery - Bruichladdich "Waves", Bruichladdich "Peat", Bruichladdich 16 Year Old Bourbon Cask, Bruichladdich PC7
Buffalo Trace - Buffalo Trace Kentucky Straight Bourbon Whiskey
Canadian Club - Canadian Club Premium, Canadian Club Reserve, Canadian Club 12YO
Cutty Sark/Glenrothes - Cutty Sark Scotch Whisky, Glenrothes Select Reserve Speyside Single Malt
Dewar Rattray - Stronachie 12 YO Single Highland Malt 43%
Diageo – Classic Malts - Glenkinchie 12yo, Dalwhinnie 15yo, Cragganmore 12yo, Oban 14yo, Talisker 10yo, Lagavulin 16yo
Dos Equis - Lager Especial, Ambar
Dalmore - Dalmore 12yo
Efes - EfesPilsner, Efes Dark
The Famous Grouse - Famous Grouse, Famous Grouse Black
Glenmorangie - Glenmorangie "The Original", Glenmorangie "Lasanta", Glenmorangie "Quinta Ruban", Glenmorangie "Nectar D'Or", Ardbeg 10 Year Old, Ardbeg Uigedail
Granville Island Brewing - Jolly Abbot Abbey Ale, Lions Winter Ale, Island Lager
Grolsch - Grolsch Lager
Highland Park - Highland Park 12YO, Highland Park 15YO, Highland Park 18YO
Highwood Distillers - Potters Century Reserve Custom Blend 15+ years, Centennial Limited Edition 10yo Canadian Rye, Potters Special Old Rye Whisky, Potters Century 21 Year Old
Howe Sound Brewing Company - Diamond Head Oatmeal Stout, Father Johns Winter Ale, Bailout Bitter, Pumpkineater Imperial Pumpkin Ale
Irish Mist & Tullamore Dew - Irish Mist, Tullamore Dew, Jack Daniel's, Jack Daniel's Old No. 7 Black Label Whiskey, Jack Daniel's Single Barrel Tennesse Whiskey
Gentleman Jack - Woodford Reserve Distiller's Select Bourbon
Johnnie Walker - Johnnie Walker Red Label, Johnnie Walker Black Label, Johnnie Walker Green Label, Johnnie Walker Gold Label, Johnnie Walker Blue Label
Lighthouse Brewing Company - Riptide Pale Ale, Race Rocks Amber Ale, Beacon India Pale Ale, Lighthouse Winter Ale
The Macallan - Macallan 12YO, Macallan Fine Oak 10YO, Macallan Fine Oak 15YO, Macallan Cask Strength
Maker's Mark - Maker's Mark, Mill Street Brewery, Tankhouse Pale Ale, Original Organic Lager, Coffee Porter
Nikka Whisky Distilling Co - Nikka Whisky From the Barrel, Miyagikyo 12 Year Old, Taketsuru 21 Year Old, Armorik Whisky Breton
Okanagan Spring - Brewmaster's Black Lager, Okanagan Spring Extra Special Pale Ale
Peacock and Martin - Duvel, Chimay Blue, Lead Dog from Yukon, Mort Subite Gueuze
Phillips Brewing Company - Surly Blonde Big Belgian Triple, Longboat Chocolate Porter, Blue Buck Ale
Pilsner Urquell/Peroni - Pilsner Urquell, Peroni Nastro Azzuro
Red Racer - Red Racer Lager, Red Racer Pale Ale, Red Racer Winter Ale, Red Racer India Pale Ale
Red Truck Beer - Red Truck Ale, Red Truck Lager
Rickard's - Rickard's Original White, Rickard's Dark, Rickard's Red
Russell Breweries - * Hopscotch Exclusive – Cask Conditioned Russell Porter, * Hopscotch Exclusive – Russell Märzen, Russell Honey Blonde Ale, Russell Pale Ale, Fort Garry Dark Ale
Bowmore - Bowmore 12 Yr. Islay Malt, Bowmore 15Yr. Darkest Islay Malt, Bowmore 18Yr. Islay Malt
Auchentoshan - Auchentoshan Classic Lowland Malt, Auchentoshan 12 Yr. Lowland Malt, Auchentoshan Three Wood Lowland Malt
Glen Garioch 15 Yr. Highland Malt
Sleeman Brewery - Sleeman Bock (John Sleeman Presents Series), Sleeman Cream Ale, Sleeman Light
Steam Whistle Brewing - Steam Whistle Pilsner
Stile Wines - Kulmbacher Beer, Chang Beer, Anchor Steam, Anchor Porter, Anchor Christmas Ale,
Springbank Distillery - Springbank 10 Year Old, Springbank 15 Year Old
Teacher's/Laphroaig - Teacher's Whisky, Laphroaig Quarter Cask
Tree Brewing - HopHead IPA, Cutthroat Pale Ale, Thirsty Beaver Amber Ale, Kelowna Pilsner, Raspberry Porter
Tullibardine Distillery - Tullibardine 1993 Single Malt Whisky 40%, Tullibardine 1988 Single Malt Whisky 46%, Tullibardine 1975 Single Malt Whisky 52.70%, Tullibardine 1488 PREMIUM WHISKY ALE 7%
Turning Point Brewing Company - Stanley Park 1897 Amber
Unibroue - Blanche de Chambly, Ephemere Cassis, Maudite, Don de Dieu
Vancouver Island Brewery - Pipers Pale Ale, Spyhopper Honey Brown, Hermann's Dark Lager, Hermannator Ice Bock 9.5% Limited Release
VonAlbrecht & Associates - Finalggan Old Reserve, Ileach Peaty, Ileach Cask Strength, Cooper Choice, Mortlach 18yo Limited Bottling, Cooper Choice, Laphroaig 10yo Limited Bottling
The Whistler Brewing Company - Whistler Premium Export Lager, Whistler Classic Pale Ale, Whistler Altitude Honey Lager, Whistler Original Black Tusk Ale
Yanjing Beer & Chinese Whisky - Yanjing beer , Chu Yehu Ching Chiew
Spirits companies at the Hopscotch Festival
The spirit section is in its sophomore year. It was hugely successful in 2008 and well received by both exhibitors and festival guests alike. There are some very interesting products this year so make sure you make your way down to the spirit section to try out some of these delicious products. Please go to www.hopscotchfestival.com for full product tasting notes. Descriptions, and token prices, of the following products.
Aha Toro Tequila, Aha Toro Blanco Tequila, Aha Toro Reposado Tequila, Aha Toro Anejo
David Herman & Son, Ltd. - Van Gogh Vodka, Van Gogh Espresso Vodka, Van Gogh Double Espresso, Van Gogh Pomegranate Vodka, Van Gogh Gin, Van Gogh Caramel, Van Gogh Coconut
Diamond Estates – Patron Spirits Company - Patron Silver, Patron Reposado, Patron Anejo, Patron XO Café, Pyrat XO Reserve Rum
Diamond Estates – Phillips Distilling Co. - Ed Phillips & Sons Prairie Organic Vodka, UV Vodka Pink Lemonade, UV Vodka Blue Raspberry, UV Cherry Vodka, Trader's Vics Macadamia Nut Liqueur
Grand Marnier - Navan, Grand Marnier Coudon Rouge, Grand Marnier Louis-Alexandre, Grand Marnier Cuvee du Centenaire, Grand Marnier Cuvee du Cent Ciquantenaire
Jose Cuervo & Don Julio - Jose Cuervo Traditional, Jose Cuervo Platino, Jose Cuervo Reserva de la Familia, Don Julio Blanco, Don Julio Reposado, Don Julio Anejo
Mey - Yeni Raki, Turkish Coffee Cream Liqueur
Pemberton Distillery Inc. - Schramm Vodka, Rain, Rain Organic Vodka
Rum Runner Imports - Doorly's XO, Fine Old Barbados Rum
Still Waters Distillery - Still Waters Single Malt Vodka 40%
Stroh - STROH 54 Original Inlander Rum
Tuaca/El Jimador/ Herradura - Tuaca Italian Liqueur, El Jimador Tequila Reposado, El Jimador Tequila Silver, Herradura Tequila Reposado
Victoria Gin - Victoria Gin
Food companies at the Hopscotch Festival
We all know that exquisite food is the perfect compliment to the delicious products listed above. This year we have decided to open up the food area to give guests more of an option as to what food to enjoy. Make your way to the Foodconnect.com Food Pavilion to taste all the yummy food from the following establishments:
Benton Brothers Fine Cheese, Pivo Public House, Sammy J. Peppers, The Regal Beagle, Revel Room Restaurant & lounge, Watermark on Kits Beach
Xoxolat Chocolate