Grand Traverse Distillery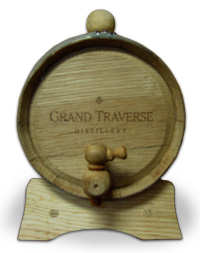 The Grand Traverse distillery believe in making the best whisky possible and they also believe in hand crafted whisky. They believe in making whisky from the past and being back the traditional early American whiskies. The distillery has basically gone back to the roots of producing whisky and will offer a 100% rye whisky which is placed in American oak charred barrels.
The distillery also produce a Bourbon style whisky and hope this will be available in 2011. In the future the plan to make Single Malts whisky and with adding this to their collection with indeed bring a new dimension to the distillery.
One thing about this distillery that interests me great is that fact that they can sell you an aging barrels. This is a great idea as you can buy one of these barrels and take it home with you. You do not even have to open it and when you think the time is ready you can just server away the whisky as your heart content.
Over the next few months you will hear about the latest news from the Grand Traverse distillery and I do look forward bring this information to all of Planet Whiskies Internet users.
Grand Traverse Distillery Tours & Tastings
If you would like to see around the distillery they are open for tours at the below times. As this distillery is still a working distillery the tours are not available all the time so carefully look at the times below before planning your journey to the distillery. enjoy showing off our distillery to our customers.
Hours are:
Thursday:Noon to 5pm
Friday:Noon to 5pm
Saturday:11am to 4pm

The address for this distillery is
Grand Traverse Distillery, 781 Industrial Circle, Suite 5, Traverse City, MI 49686
Phone: 231.947.VODKA (8635)
E-mail: info@grandtraversedistillery.com
Website: www.grandtraversedistillery.com