Whisky Accommodation in Islay and Jura, Scotland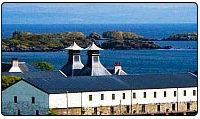 Welcome to the accommodation page on Planet Whiskies for the famous whisky area of Islay and Jura. There are a number of hotels, bed and breakfast and self catering accommodation within this region while you are visiting the eight distilleries on Islay or the one which is present on the Island of Jura. The distilleries that are all nearby on Islay are Bunnahadhain, Kilchoman, Bruichladdich, Caol Ila, Bowmore, Posrt Charlotte, Post Ellen and of course Ardbeg.
More information relating to Ardbeg can be found in the latest news section within this site. You can also read about the rest of the distillery on the Scottish Whisky Distilleries on Planet Whiskies
I will only name a selection of the accommodation available in this area, but if you are wanting to find more places please visit www.islayinfo.com or www.discoverislay.co.uk where there is a full section. Also go to www.visitscotland.com to gain more insight to this beautiful Scottish region.
The Lochside Hotel, Bowmore, Isle of Islay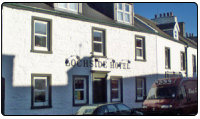 Welcome to an information guide regarding the Lochside Hotel on the Isle of Islay. This hotel has ten lovely bedrooms that have just been decorated to a high standard. This hotel also has a very well stocked Lounge Bar where a number of the local malt can be found. You can find out more regarding the meals that are available on the hotel's website which is listed below. There is full wheelchair access to this hotel.
If you would like to contact The Lochside Hotel directly you can use this following email address bookings@lochsidehotel.co.uk. Address details for this lovely hotel are The Lochside Hotel, Shore Street, Bowmore, Isle of Islay, PA43 7LB. If you would like to phone them the number is +44 (0) 1496 810244. All these details can be found on their website www.lochsidehotel.co.uk
Machrie Hotel and Golf Links, Isle of Islay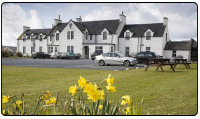 Welcome to the famous Machrie Hotel and Golf Links on the Isle of Islay. This very famous hotel is truly an amazing place to stay. It is known in golfing circles throughout the world and is a must place to stay if your interested in your whisky on golf. This beautiful Hebridean island hotel is on a cliff top above Laggan Bay and has remarkable views all round the hotel.
The hotel itself always uses fresh local products whenever possible to use within there hotel catering. As you would imagine the hotel bar is full stocked with the finest selection of malt whiskies from the local distilleries and beyond. The hotel staff have all the latest news and times for any whisky distillery tours you want to plan and are always willing to help set up these tours to the 8 distilleries on Isle of Islay. There are also a number of other activates that the hotel staff will help you plan including coastal rambles and fishing just to name a couple.
This is an ideal place to stay when visiting the Islay and I would recommend this to everyone. If you would like to email this hotel the contact address is machrie@machrie.com and remember to say you heard about this hotel through Planet Whiskies. Address contact details are The Machrie Hotel and Golf Links, Port Ellen, Isle of Islay, Argyll, PA42 7AN and the contact telephone number is +44 (0) 1496 302310. You can gain more information for your stay at the Machrie Hotel by visiting www.machrie.com