Single Malt Home ~ A ~ B ~ C ~ D ~ E ~ F ~ G ~ H ~ I ~ K ~ L ~ M ~ O ~ R ~ S ~ T ~ W
View more malt whiskies from Macallan Distillery
Single Malt Scottish Whisky -The Macallan 1824 Collection - Decanter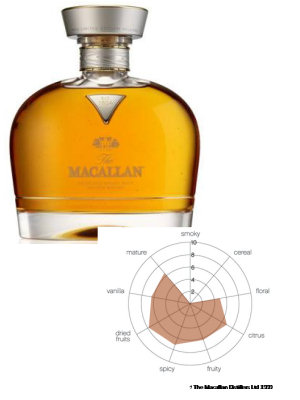 Appearance: Dark amber.
Nose: Dried fruits, orange, wood spices – burnished oak.
Palate: Exotic spices, ginger, cardamom
Finish: Extremely long, apple, spices, very slightly dry.
Strength: 48% ABV.
Cask Combination: Sherry seasoned, European oak single casks.
As they draw on some of the oldest and rarest casks at The Macallan Estate, each year's bottling will be different. The 2009 release is bottled at 48% and drawn exclusively from sherry seasoned Spanish oak casks which have been solely grown, cared for and crafted by the Tevasa cooperage. This is a truly unique expression from The Macallan.
What the experts say
Jim Murray - Unquestionably my favourite Macallan of all time: indeed one of the greatest whiskies ever created…the annals of Speyside whisky have been re-written. Just about faultless – it is as if someone has gone through the entire warehouse complex at The Macallan, cherry-picked their finest casks amongst the tens of thousands present and put them together to tell a story never before been told. A lifetime great whisky
Jim Murray Whisky Bible score - 97.55%
Paul Pacult - Brilliant deep color; impeccable clarity. Off-the-charts aromas. Entry is lush, luxuriously deep, sweet in a honeyed manner, and slightly baked; midpalate offers full-weighted tastes of dark honey, brown sugar, rum, oloroso sherry, and old oak. Concludes brown sugar sweet, fruity, and comforting in the mouth as the alcohol gently detonates in the throat, releasing waves of warmth. A perfect malt whisky and a benign force of nature.
Spirit Journal Rating 2009: Five Stars/Highest Recommendation
RRP 1,450 Euros/70cl
Select Oak ~~ Whisky Maker's Edition ~~ Estate Reserve ~~ The 1824 Limited Release 1824 decanter
View more malt whiskies from Macallan Distillery
Single Malt Home ~ A ~ B ~ C ~ D ~ E ~ F ~ G ~ H ~ I ~ K ~ L ~ M ~ O ~ R ~ S ~ T ~ W