Tomatin Release Limited Edition Portuguese Collection. Dedicated to and Inspired by The Wines of Portugal
Published Date: 26th October 2022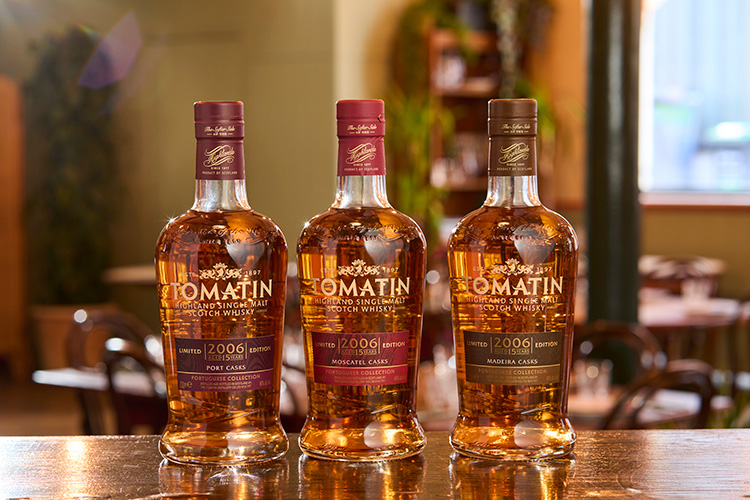 Tomatin Single Malt, one of Scotland's most highly awarded whiskies, has announced the release of a limited-edition cask series dedicated to and inspired by the wines of Portugal.
The Portuguese Collection expressions were each distilled on 8th September 2006 and laid down in traditional Scotch Whisky oak casks for over 8 years. On 23rd April 2015 the whisky was then moved into Tawny Port, Moscatel de Setubal and Madeira Wine casks for a further 7 years, resulting in a magnificent triad of single malt Scotch Whiskies.
Scott Adamson, Tomatin Blender & Global Brand Ambassador, said, "We are thrilled to bring to market this exclusive collection. Portugal has a great tradition of winemaking and is particularly well renowned for its characterful fortified wines. We wanted to take some of that incredible aroma, taste and mouthfeel and combine it with the unique flavours of Tomatin to create something outstanding - worthy of the gifting season and special occasions."
"You can really sense the origins of the cask - the smooth flavour profile of Portugal's iconic wines, coming through. This collection really is magnificent and the perfect purchase for spirit lovers searching for a new and unique whisky experience."
He added, "With Tomatin's Portuguese Collection, we have created something that transcends borders - combining two cultures and two palates together to create something very special indeed."
The Port Edition showcases an initial aroma of Black Forest gateau with warm spices and deep forest fruits - blackberries, raspberries and cherries, but the sweeter notes of peach and apricot to finish. The Moscatel Edition offers sweet aromas of marmalade, honey and salted caramel, combined with a hint of citrus balanced perfectly with ginger and star anise. Completing the collection, The Madeira Edition presents pronounced aromas of honey and lemon, which move into flavours of butterscotch and stewed apples - finishing on a treacle note.
The Portuguese Collection is available to buy from Tomatin.com and specialist retailers worldwide, priced from £90.00.
More Whisky News