CÙ BÒCAN WINS DESIGN AWARD - Cù Bòcan wins 'Best New Launch Whisky' at World Whiskies Design Awards - 23rd March, 2014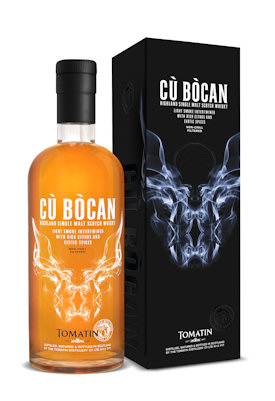 The Tomatin Distillery Co Ltd is celebrating a win at the World Whiskies Design Awards 2014. Its newest single malt brand, Cù Bòcan Highland Single Malt Scotch Whisky, was awarded the 'Best New Launch' award.
The World Whiskies Design Awards are the annual awards recognising excellence in bottle, label and pack design. Judged by an international panel of design experts, the winners were announced on Thursday 20th March 2013 at the Whisky Magazine's Awards Presentation Dinner held at the Waldorf Hilton in London.
The World Whiskies Awards were also announced, in which the Tomatin 18 year old single malt won "Best Highland Single Malt 13 to 20 Years" for the second year running.
Released in September 2013, Cù Bòcan is a departure from the traditional Tomatin range, both in flavour - it is lightly peated - and in its contemporary presentation. Cù Bòcan (loosely translating from Gaelic as "ghost dog") tells the story of a legendary hellhound who has been stalking residents of Tomatin for centuries, expertly portrayed by its innovative and eerie packaging.
The judges said about Cù Bòcan: "Evocative and relevant graphics designed to attract new consumers and freshen up the image of whisky. The imagery evocatively describes the nature of the product inside. This package works on many levels – it is clean, contemporary and stylish – it feels new yet, at the same time, reassuringly authentic."
Jennifer Nicol, Marketing Manager
Commenting on the award, Jennifer Nicol, Marketing Manager, said: "We were clear right from the beginning of the development process that we wanted to separate our peated whisky release from the existing Tomatin brand so as not to confuse our existing customers. This allowed us to push the boundaries and experiment with a more contemporary design. We are delighted with the result; top quality and striking, reflective of the whisky contained within. The brand's success has surpassed all expectations and we look forward to its forecasted growth with further batches and limited editions."
Pocket Rocket Creative Ltd
The Cù Bòcan packaging was designed by Stirling based creative agency Pocket Rocket Creative Ltd. who were also celebrating on the night having won in two other categories, and winning overall with 'Best Design Agency'. Del Sneddon, the lead creative on the Cù Bòcan project, said: "It's an incredibly exciting win and we're encouraged to see that progressive designs like Cù Bòcan are being endorsed and commended by the whisky industry cognoscenti."
Tomatin will be releasing the first limited edition Cù Bòcan in April 2014, with several others also in the pipeline
<< View Tomatin Single Malt Range
<< View more details about the Tomatin Distillery
<< Read about Planet Whiskies tour of Tomatin DIstillery
<< Read more Graham Eunson Master Distiller
<< Back to all the latest whisky news brought to you by Planet Whiskies