The Macallan's Latest Addition To Folio Series: The Story Of The Boffins Baffled
Published Date: 13th April 2023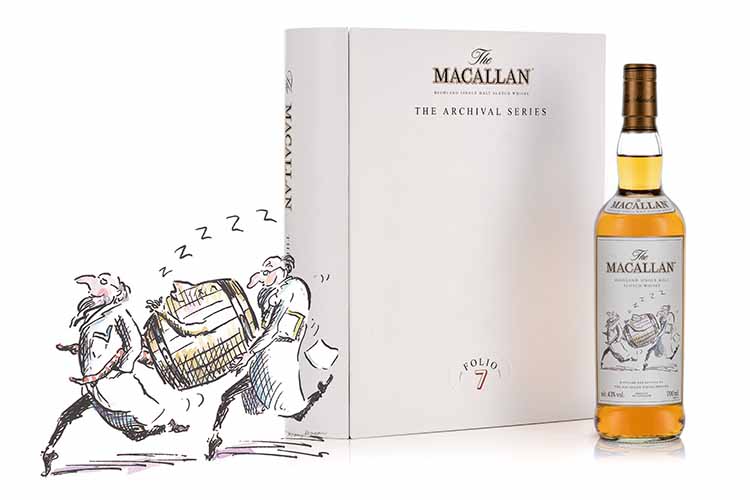 The Macallan has revealed the next instalment in the iconic series that celebrates the classic advertising campaigns of the brand - Folio 7.
The seventh release from The Macallan Archival Series highlights a campaign from 1984, telling the quirky story of a curious party of scientists who were invited to the Distillery to taste The Macallan single malt whisky for the first time.
The animations created for the campaign depict the scientists visiting The Macallan Distillery and enjoying a signature dram while discerning why whisky ages best in sherry seasoned casks. They are seen to be sniffing and sipping the amber-gold nectar in awe of their new discovery, before they depart in a flurry to investigate further the magic they have tasted.
First released in 2015, The Archival Series was created to commemorate The Macallan's legendary print, press and film advertising campaigns of the 1970s, 1980s and 1990s. By gathering the stories, anecdotes, drawings and photographs that featured as part of the campaigns, the series of individual releases showcases how The Macallan grew from a remote farmstead on the River Spey to become a world-renowned whisky recognised for its incomparable craftsmanship and creativity.
Art Director, David Holmes and Copy Writer, Nick Salaman were tasked to bring the brand's essence to life in the 1984 advert. On hearing the account of scientists visiting The Macallan Estate, David and Nick, together with illustrator Mary Hogan (Nee Roberts), created an advert with exquisite verve, The Boffins Baffled, now re-imagined once more in Folio 7.
Euan Kennedy, Lead Whisky Maker, The Macallan, said: "Crafted to pay tribute to the magic and curiosity of The Boffins Baffled advert of the 1980s, Folio 7 is a captivating single malt whisky which truly reflects the iconic status of the artwork it celebrates.
"Offering a fruity nose of apple and pear, raisins, milk chocolate and orange peel then give way to vanilla and baked fruits on the palate, leaving a long, creamy finish with warm spices. With its interesting flavours, Folio 7 offers a unique way to experience The Macallan and one of its most unforgettable advertising campaigns from decades past."
The Macallan Folio 7 features an ABV of 43% and is priced at £350. It is accompanied by a special booklet commemorating the brand's vintage advertising, presented in a beautiful book-shaped tin. Folio 7 will be available for sale from April 2023 when a ballot opens through The Macallan Online Boutique, as well as from The Macallan Estate Boutique and selected global travel retail Boutiques.
For further information visit www.themacallan.com.
More Whisky News