Latest News - Whisky industry - £3m New Look for Whisky's Biggest Attraction - 17th April 2009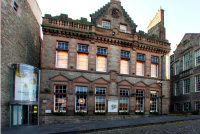 The Scotch Whisky Experience, Edinburgh's five-star visitor attraction dedicated to exploring the story of Scotch whisky, is set to unveil a £3m new look for its popular whisky tour. Representing a major investment for the attraction, the new tour journeys from barley to bottle, exploring the diverse Scottish regions and unique processes of whisky production and culminating in an exclusive visit to the World's Largest Collection of Scotch Whiskies.
Set at the top of Edinburgh's Royal Mile, The Scotch Whisky Experience is ideally located in the heart of the old town and only a stone's throw from historic Edinburgh Castle. The new tour takes a fresh approach to the visitor experience, blowing away the myths and stereotypes which surround Scotch whisky.
Light, sound, smell and movement all have a part to play in the captivating story, which is introduced by the late Distillery Manager, Douglas McIntyre, retaining the popular ghostly element. The tour also encompasses personalised whisky tasting, using scratch and sniff aroma cards, and a new version of the attraction's much-loved barrel ride, which journeys from fields of golden barley all the way to restful oak casks, at which point visitors soak in a sense of the time honoured maturation process, integral to whisky's production.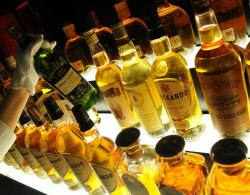 The tour culminates in entry to a breathtaking and atmospheric vault; the bespoke home of the record breaking Diageo Claive Vidiz Scotch Whisky Collection. A stunning treasure trove of 3,384 malts and blends, the Collection offers the chance to experience Scotland's national drink like never before. With time to peruse rows of rare bottles, expert commentary is on-hand to provide insight into the history and key features of the unique acquisition.
At the end of the tour visitors can explore a new exhibition and demonstration area, which charts the rise of Scotch whisky as an industry, its global appeal and importance to Scotland today. Here visitors can enjoy a traditional single malt from the bar or learn how to make a whisky cocktail while taking in the stunning panoramic views stretching over Edinburgh.
The new tour at the Scotch Whisky Experience will offer something for everyone with a variety of options and a dedicated character, Peat the Cat, on hand to guide children through the twists and turns of the distillery. For a more sophisticated whisky lover, the new VIP Sunset Tour encompasses an additional professional whisky cocktail, while the Collection Tour allows whisky enthusiasts an extended period to explore the Diageo Claive Vidiz Scotch Whisky Collection in more detail.
With family tours, child-friendly exhibits, tailored tours for school groups and easy access for wheelchairs the new tour is set to offer an unforgettable experience for all. It will also contain a section on responsible drinking and will be translated in to 15 languages, more than ever before, including Hindi, Chinese, Russian and, of course, Gaelic.
<< Back to all the latest new brought to you by Planet Whiskies