Jameson Launches Second Edition Of Its Film Making Competition 'Jameson First Shot' - 19th November, 2012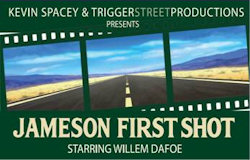 Building on the success of its inaugural year, Jameson is launching 'Jameson First Shot' short film competition for 2013, with two major Hollywood actors now involved in the project.
After the success of the first year which saw over five million people worldwide watching the three winning films starring Kevin Spacey, the second Jameson First Shot competition will offer talented amateur film-makers the once-in-a-lifetime opportunity to work with acting legend Kevin Spacey and for the first time, to direct double Oscar nominee Willem Dafoe.
Aspiring film-makers in South Africa, Russia and the USA are invited to submit a script inspired by one of the three themes - 'legendary', 'humorous' or a 'very tall tale' – by 1st January 2013 on www.jamesonfirstshot.com. All submitted scripts will be judged by an esteemed panel including Spacey, Dafoe and Dana Brunetti, President of Trigger Street Productions.
The shortlisted filmmakers will then go through to the next stage of the competition where they will have to demonstrate their directing skills, before the three winners – one from each country – are chosen and flown to Los Angeles to film their short film starring Willem Dafoe.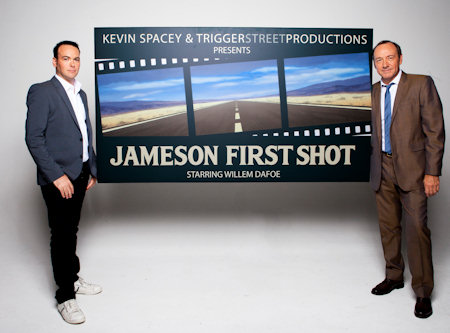 Howard Southern, International Marketing Director for Jameson says: "Last year's Jameson First Shot competition was a runaway success and further established the exciting association Jameson has with the film industry. It is great to be able to offer aspiring film-makers such an amazing opportunity to help them turn their passion into a profession and we are thrilled to have such well-known Hollywood figures involved in this unique project. We are very proud of the strong associations Jameson has built with the film industry over the last 14 years and we're delighted to say that the brand is now involved with cinema projects across more than 30 countries. This involvement really resonates with our consumers and ultimately works towards increasing brand loyalty amongst our target audience worldwide."
For full details on how to enter plus exclusive videos and tips from Kevin Spacey and Dana Brunetti, visit www.jamesonfirstshot.com.
<< Back to all the latest new brought to you by Planet Whiskies