New Whisky Release: Glenmorangie's vintage collection reveals a whisky of implausible harmony
Rich plum limited edition celebrates Highland Distillery's wood-finish pioneers
Published Date: 2nd April 2019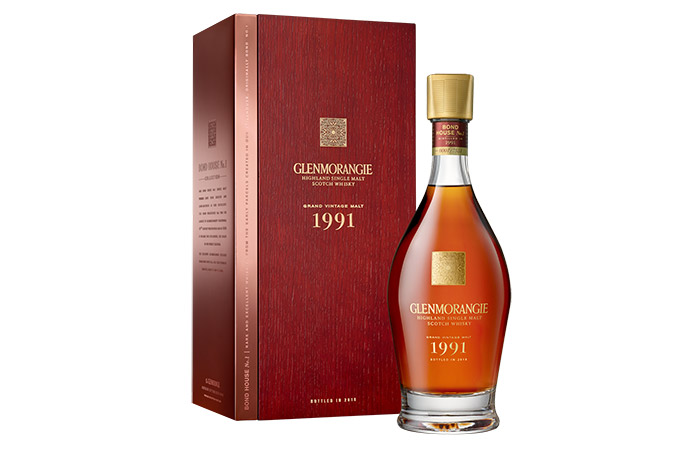 A Highland single malt which marries two profoundly different whiskies in
implausible harmony, is today revealed as the fourth release in Glenmorangie's celebrated Bond House No. 1 vintage collection.  
Glenmorangie Grand Vintage Malt 1991 takes its rich plum character from two parcels of whisky which, ordinarily, would never be brought together. One was finished in oloroso sherry casks for sweetness and spice. It seems utterly incongruous with the other, finished in Burgundy casks for earthy and truffle notes. Yet, united  with skill, their contrasts create this surprisingly mellow 26-year-old limited edition – the latest in a collection exploring some of the Distillery's most prized parcels of aged whisky. 
Glenmorangie is renowned as one of the pioneers of wood-finishing. In 1991, when this whisky's spirit was distilled, that art was still in its infancy. But even then, the Distillery's whisky creators were alive to the possibilities that a wood finish could bring. And so, they began a period of intense experimentation, intent on creating new techniques and flavours.   
Years later, Dr Bill Lumsden, Glenmorangie's Director of Distilling, Whisky Creation & Whisky Stocks, was inspired to revisit some of these parcels of 1991's whisky, selecting two contrasting styles to create this vintage release. Both long-aged in bourbon casks, each had been finished in oloroso sherry casks or in Burgundy casks for more than a decade. With a master distiller's flair, he married them, softened by a hint of whisky aged in new toasted oak, to create an expression of rich intensity.  
Dr Bill said: "Bringing together two such incongruous whiskies goes somewhat against convention which, in part, is what drew me to the challenge of combining them.  The result is a single malt with a rich plum character, deep, mellow aromas and tastes of ripe fruits and milk chocolate. Glenmorangie Grand Vintage Malt 1991 honours those early pioneers who dedicated themselves to the art of the wood finish in 1991, whose work still guides us today." 
Created with the collector in mind, Glenmorangie's Bond House No. 1 series showcases some of the Distillery's most scarce vintages. The collection takes its name from the largest of Glenmorangie's 19th century Bonded Warehouses. For generations, Warehouse No. 1 was home to the Distillery's casks of maturing spirit until, in 1990, it was transformed into a majestic new still house. Today, Bonded Warehouse No. 1 is the heart of the Distillery's whisky creation. 
Glenmorangie Grand Vintage Malt 1991 will be available to purchase online at www.Clos19.com and from whisky specialists, from 9th April onwards, RRP: £630.
<< Buy Glenmorangie Single Malt Whiskies
<< Read more about the Glenmorangie Distillery
<< View Scottish Single Malts on Planet Whiskies
<< Back to all the latest whisky news brought to you by Planet Whiskies