The Famous Grouse unveils limited edition timorous beasties packaging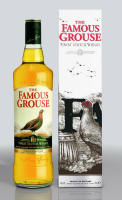 5th November 2009 - Scotland's favourite whisky, The Famous Grouse has unveiled its limited edition carton designed by well known Scottish designers Timorous Beasties, and announced an exclusive listing with Waitrose over the Christmas period.
The nostalgic illustration takes the style of the iconic Timorous Beastie toile designs, and depicts a visual history of the brand and its origins in Perth, Scotland at Bordeaux House, along with the famous bird itself.
The UK is one of four main markets* distributing the bespoke packaging, and will be releasing only 24,000 of the limited edition cartons across the country, providing a real collectors' item for whisky lovers over the Christmas period.
Timorous Beasties is famous for its uncompromisingly contemporary images on traditional textiles and wallpapers, and has become famous throughout the world for its work with clients ranging from Vivienne Westwood, Phillip Treacy, Nike, Liberty and the V&A museum.
Linda Sooprayen, Brand Manager, Maxxium UK commented: "The collaboration with Timorous Beasties perfectly captures the character of the brand, and offers a exclusive gifting choice this Christmas – our most important selling period of the year."
Gerry O'Donnell, Director, The Famous Grouse commented: "We are delighted to unveil this collaboration between two unique and creative Scottish institutions. Both brands have similar personalities, showing equal amounts of wit and charm, and the packaging has fantastic stand out on shelf."
The limited edition Timorous Beasties packaging contains a 70cl bottle of The Famous Grouse. It is available exclusively in Waitrose, or to order online visit www.thefamousgrouse.com (RRP £14.32. Supermarket prices may vary). For more information on the design please visit: www.famouslydesigned.com.
<< Back to all the latest whisky news brought to you by Planet Whiskies