Claxton's Single Malt Whisky Releases for Summer 2019 including a BenRaich, Ardmore, Speyside, Strathclyde and Glen Moray
Published Date: 5th September 2019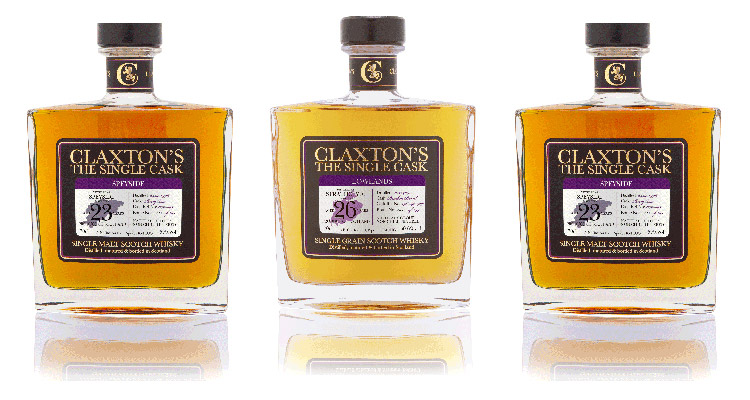 Claxton's has launched its latest line-up of Single Cask Whiskies – 'CLAXTON'S SUMMER 2019 RELEASE' -

Featuring six brand new Single Cask bottlings, including one Single Grain Scotch Whisky and five Single Malt Scotch Whiskies, all carefully selected for their outstanding quality and variety of styles.

Selected in this outturn are the following single cask releases:

• 2008 Benriach, Hogshead, 10 YO, ABV 56.5%
• 2008 Ardmore, Ex-Islay Barrel, 10 YO, 59.4%
• 2007 Glen Moray, First Fill Bourbon Barrel, 11 YO, ABV 51.4%
• 2007 Ledaig, Hogshead, 12 YO, ABV 55.8%
• 1996 Speyside, Sherry Butt, 23 YO, ABV 57%
• 1992 Strathclyde, Barrel, 26 YO, ABV 50.6%
Claxton's Summer 2019 Release is available globally in selected specialist whisky retailers from early September.

In Claxton's The Single Cask range, each bottling selected is available in limited numbers, with previous releases having been consistently praised by reviewers and fans across the globe for showcasing the merits of single cask whisky.

Claxton's is a family owned, independent whisky bottling company from North Yorkshire, United Kingdom. The Single Cask range of whiskies is available through a select number of specialist outlets in the UK, Europe and the Far East.

<< View Scottish Single Malts on Planet Whiskies
<< Back to all the latest whisky news brought to you by Planet Whiskies
Get Newsletter
Subscribe to our newsletter to get latest news, popular news and exclusive updates.