Spirit Of Speyside 2015 | Bleatings from Speyside: Spirit of Speyside Whisky Festival programme is a Shear Delight
Published Date: 31st March 2015
For black sheep who don't follow the flock, if whisky tours or tastings aren't your thing, then there are craft opportunities by the bagful to be had during this year's Spirit of Speyside Whisky Festival which takes place from April 30-May 4.
Three Bags Wool is a speciality craft shop in Aberlour where festival visitors can spend an afternoon making a needle felt sheep scene.
All the tools, equipment and materials will be provided to enable people to work on their own masterpiece. No experience is needed but the workshop comes with its own warning – this craft activity may prove addictive!
You'll leave with your own hand made artwork and a basic knowledge of needle felting.
Or how about branching out and trying wood turning under the expert guidance of master carver Julian Schmechel at Burnside of Ballintomb Furniture Makers?
With just four places per session, these day-long workshops include lunch and would be just the thing for anyone wishing to learn wood carving, as no experience is needed.
Meet local craft workers and see them in action at the Speyside Crafts Market in Grant Hall in Rothes. The friendly, knowledgeable stall holders will represent a wide range of local crafts and will be happy to demonstrate their skills and chat to visitors on May 2.
Meanwhile exhibitors from Creative Cairngorms and other craft businesses will display their expertise and have a range of their creative output for sale at an open day at The Glenlivet Distillery also on May 2 which will include bee-keeping, embroidery, information about  salmon in the River Spey and its tributaries, as well details of activities in the area.
Should you make purchase of some of the finest liquid produce from Speyside, then you'll need a glass from which to drink it. So why not have a go at making your own from a selection of Speyside timber at a green wood crafting workshop?
This is a centuries-old craft will see participants learning how to select, cleave and carve out freshly felled logs using a selection of hand tools and devices, including carving axes, drawknives, carving knives, shaving horses and pole lathes.
Or watch a master glass blower at work in a demonstration at The Macallan Distillery. Small groups will be taken on a guided tour with tutored nosing and tasting of four expressions of The Macallan plus its new-make spirit.
The experience ends with Tom Young from the Angel's Share Glass Works in Bridge of Allan demonstrating the handcrafting of 'hanging angels' or 'water droppers'.
From stitching to woodcarving there's all kinds of arts and crafts featuring in this year's festival programme alongside comedy, food, activities, music and of course whisky events.
With almost 400 events over the five day festival, there will be lots to do and see across the region.
Spirit of Speyside Whisky Festival takes place from April 30 to May 4, 2015.
Visit www.spiritofspeyside.com to buy tickets and follow the Festival at www.facebook.com/WhiskyFestival or www.twitter.com/spirit_speyside

Read more about The Spirit of Speyside Whisky Festival 2015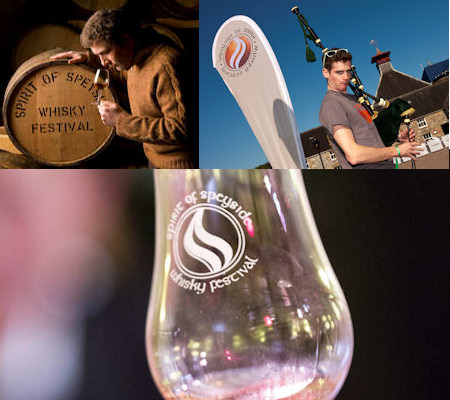 << Back to all the latest whisky news brought to you by Planet Whiskies