New Zealand Prime Minister Repatriates Shackleton's Whisky: Return to Antarctic Heritage Trust
Published Date: 20th January 2013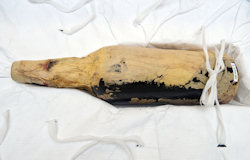 Yesterday, (Saturday 19 January 2013) New Zealand Prime Minister John Key returned 3 bottles of more than 100 year-old whisky to the Antarctic Heritage Trust in Antarctica. The 3 bottles are from whisky crates excavated from under explorer Sir Ernest Shackleton's only Antarctic expedition base by Trust conservators in 2010.
The Prime Minister handed the whisky over to Antarctic Heritage Trust Trustee Rob Fenwick. The bottles will then be entrusted to Lizzie Meek, Antarctic Heritage Trust's Programme Manager – Artefacts. The Trust cares for the whisky, as well as thousands of objects left in the expedition bases by the early Antarctic explorers.
The handover marks part of the final stage in a remarkable journey. After excavating the whisky one crate was flown to Canterbury Museum, New Zealand under permit from the New Zealand Government and thawed by Programme Manager Lizzie Meek, revealing eleven bottles of Mackinlay's whisky.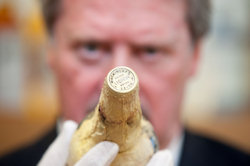 Three bottles were then sent to Scotland for scientific analysis by Whyte & Mackay, (owner of the Mackinlay's brand) and The Scotch Whisky Institute. The whisky provided a unique opportunity to apply modern sensory and chemical analytical methods to establish the flavour and composition of a product manufactured more than one hundred years ago.
Whyte & Mackay's Master Blender, Richard Paterson, then used his unique nosing and tasting skills to create an exact replica of the whisky. This whisky, which has been sold around the world, has gone on to raise over £250,000 to fund various Antarctic Heritage Trust projects, including the preservation of Shackleton's Antarctic expedition base.
Repatriating the whisky back to Antarctica fulfils the permit conditions issued by the New Zealand Minister of Foreign Affairs to remove, analyse and return the whisky.
The whisky travelled to Antarctica on Thursday 17 January 2013. The handover took place in the Antarctic Heritage Trust's conservation lab at New Zealand's Scott Base where the Trust's team of conservators work over winter, conserving the explorers' clothing, equipment, tinned goods and personal items.
Once conservation is complete at Scott Base the 3 crates will be returned to Ernest Shackleton's British Antarctic Expedition 1907-1910 base at Cape Royds, Antarctica.
Richard Paterson, Whyte & Mackay Master Blender said "Having the chance to analyse and taste a whisky that is over 100 years old has undoubtedly been the highlight of my career. The whole process – from discovery to excavation to recreation and now repatriation - has taken 5 years but it's been well worth it!
And as we come full circle in the original whisky's journey, I'm pleased that the pioneering spirit of Shackleton will live on through the Antarctic Heritage Trust's research, books, stories and of course the whisky! It is indeed an enduring spirit."
<< Back to all the latest whisky news brought to you by Planet Whiskies