Jura Brings Taste Of Island Life To Festive Gifting :: New premium Jura gift tins: the hot-ticket for whisky lovers this Christmas :: 5th November, 2015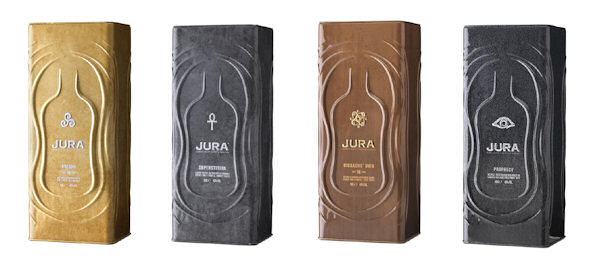 Jura Single Malt Scotch Whisky has unveiled a range of new premium gift tins that are set to quickly make the way to the top of Christmas lists this festive season. 
The unusual designs take inspiration from the Isle of Jura's rugged and rural landscape.  Home to only one road, one pub and one shop, and with more red deer than people, Jura is as beautiful as it is remote. 
The beauty of the island is evident in the striking new gift range, the four classic expressions of the Jura collection - Origin, Superstition, Diurachs' Own and Prophecy - all encased in tactile gift tins, embossed with flowing contours representing the island and mirroring the iconic Jura bottle shape. 
A unique sweet or smoky flavour profile sits at the heart of the single malt core range. Carefully sourced ingredients and a unique distillation process bring both the calm and serene, and darker, more foreboding sides of the island to life in the whisky, offering opportunities for drinkers to explore the diverse tastes and flavours of Jura.
The light and delicate Origin 10 Year Old and the rich and full bodied Diurachs' Own 16 Year Old are smooth and sweet on the palate, while the lightly peated Superstition and heavily peated Prophecy offer a smokier experience for the tastebuds.  This distinction is also showcased with the colour of the limited edition tins. The rich golden colour of Origin and Diurachs' Own tins evoke images of East Jura's tranquil white beaches and palm trees, while the Superstition and Prophecy tins feature dark hues akin to the rugged Atlantic shores on the West.
The limited edition gift tins are available to purchase now from independent stores and multiple retailers. Prices across the range begin at £32 RSP for Origin, and may vary between retailers.
www.jurawhisky.com
www.twitter.com/jura_whisky
www.facebook.com/jurawhisky
Instagram: jura_whisky
<< Buy Jura Single Malts Whisky
<< Read more about Jura Distillery
<< Back to all the latest new brought to you by Planet Whiskies