Introducing Chivas Regal The Icon A Symbol Of Luxury For A New Era :: 6th May, 2015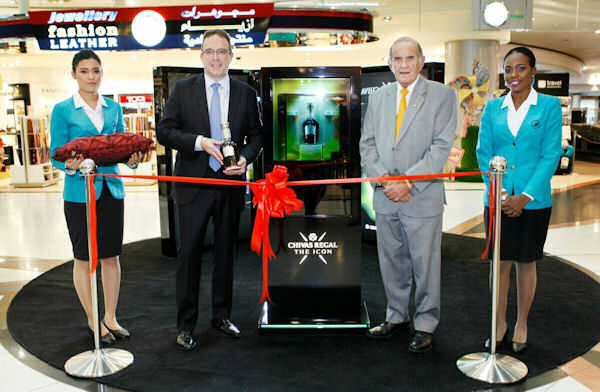 Chivas Regal, the world's first luxury Scotch whisky, has unveiled the pinnacle of the Chivas Regal range - Chivas Regal The Icon, a new ultra prestige Scotch whisky. Created with a blend of some of the rarest and oldest whiskies available to Chivas Regal, a proportion from distilleries now lost forever, Chivas Regal The Icon will be available in Dubai Duty Free from May and globally from September at an RRP of $3,500 USD in Global Travel Retail.
Blending Chivas Regal's heritage with the unparalleled expertise of Master Blender Colin Scott, Chivas Regal The Icon is a luxury Scotch with extraordinary depth and complexity. Crafted with over 20 of Scotland's rarest whiskies, Chivas Regal The Icon includes single malts from Strathisla, the oldest continuously operating distillery in the Scottish Highlands, Longmorn and Glen Keith distilleries. Each year the Master Blender will produce a limited number of bottles of this luxurious Scotch whisky, making it a must have product for whisky adorers and collectors alike.
Presented in an elegant bottle, each decanter of Chivas Regal The Icon has been hand-blown by dedicated master craftsmen at Dartington Crystal before being hand-filled with the luxury liquid. The glass is etched with careful precision before being dressed with finely crafted metalwork, while the green colour pays tribute to the original Chivas Regal bottle from 1909.
Richard Black, Chivas Regal Global Brand Director, commented: "We are very proud to establish a new standard in precious Scotch whisky with Chivas Regal The Icon and we will continue to lead the way in crafting luxury Scotch that impresses Chivas fans and sophisticated whisky aficionados. Chivas Regal The Icon is Chivas Regal at its very best, the new pinnacle of the range."
Master Blender for Chivas Regal, Colin Scott, added: "Chivas Regal The Icon is a truly exquisite blend. I feel very honoured to be the Master Blender to present this luxury Scotch which features rich notes of honey, vanilla and dark chocolate balanced by subtle hazelnut influences from the cask. Chivas Regal The Icon delivers a long and luxurious finish in the smooth Chivas signature style."
Chivas Regal The Icon has a 40% ABV and is presented in 70cl bottles.
<<To see the history and buy whiskies from Chivas Brothers
<< Back to all the latest whisky news brought to you by Planet Whiskies
Get Newsletter
Subscribe to our newsletter to get latest news, popular news and exclusive updates.