Bowmore Whisky Launches Partnership with River Cottage's John Wright & Gill Meller
If you would like to view all the malts from Bowmore Distillery please click here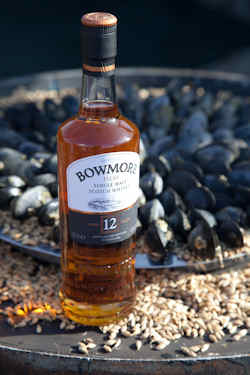 Bowmore Single Malt whisky has teamed up with John Wright, the UK's leading foraging expert, and top chef Gill Meller, both from Hugh Fearnley-Whittingstall's River Cottage, to launch a series of delicious seafood and dessert recipes to match perfectly with Islay's first Single Malt. Created especially by the duo using forageable ingredients, the recipes and collaboration further cement the whisky's natural partnership with food and the outdoors.
Complex yet perfectly balanced, Bowmore 12 Years Old reflects the raw essence of Bowmore and Islay, its magical island home off the west coast of Scotland. With its subtle notes of lemon and honey, complemented beautifully by Bowmore's trademark peaty smokiness, Bowmore 12 Years Old's natural partner is seafood.
Kirsteen Beeston, Head of Brands at Morrison Bowmore Distillers, adds: "We're really excited to be further establishing Bowmore's relationship with food and the outdoors with the foraging activity. The partnership with Gill and John is a great fit for the brand, we hope the recipes will inspire consumers to enjoy whisky and food in a fresh and innovative way'.
Surrounded by the unpolluted waters of the Atlantic, this elemental island is home to some of the finest and most sought after seafood in Europe, such as salmon, langoustines, scallops and oysters. Having explored Islay, John Wright and Gill Meller have developed these mouth-watering recipes:
· Bowmore Dry Cured Oak and Peat-Smoked Sirloin and Crispy Gutweed

· Pine-Fired Mussels with Spear-Leaved Orache

· Devilled Dressed Brown Crab on Toast with Bowmore 12 Years Old

· Wood-Roasted Lobster and Scallops with Wild Sorrel Sauce

· Sea Lettuce, Clam, Potato and Oyster Rostis

· Chocolate and Seaweed Pannacotta with Bowmore Butter Shortbread

· Chocolate and Bowmore-Soaked Prune Fondant
John and Gill have also created two inspired chocolate dishes to pair with the much-awarded expression Bowmore 15 Years Old 'Darkest'. Matured in boubon casks, followed by three years inOloroso sherry casks, the result is a rich, deep expression with a warming finish.Although delicious on its own, the dark chocolate brings out its rich fruitiness and the trademark Bowmore smokiness.
Bowmore's collaboration with Paul A Young will also continue through 2012. For one of the darkest and most magical nights of the year – Bonfire Night – the groundbreaking Master Chocolatier is creating the perfect hot chocolate serve using Bowmore 15 Years Old 'Darkest'. The expression is incorporated into a dark chocolate ganache bon bon, which the consumer then stirs into the hot chocolate drink and watches as the ganache and whisky melt away.
For more information, please visit www.bowmore.com and www.facebook.com/bowmore
UK Distributor: Cellar Trends on 01283 217703 or enquiries@cellartrends.co.uk
<< View the range of Bowmore Single Malt Whiskies
<< Back to all the latest whisky news brought to you by Planet Whiskies